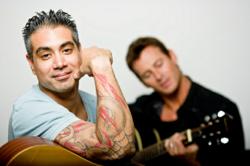 "From your first lesson, I will have you playing. And, I will inspire you to keep on playing. The guitar is not an easy instrument to play; but if you aspire to be an accomplished player; I can get you there," Dyce Kimura.
Fort Lauderdale, FL (PRWEB) November 02, 2012
This video promises to have guitar lovers playing the Eagle's classic "Hotel California" in moments—no matter the age. Dyce's ability to get students playing the guitar right away is winning him lots of loyalty among his client base. First, Dyce shows students the right information. More importantly, he then immediately shows them how to apply that information to make great, fun-to-play music. This free YouTube video demonstrates Dyce's unique teaching method which simplifies the song into easily understandable sections and he teaches them in a way that anyone can understand.
Dyce's lesson on Hotel California covers the chords Bm, F#7, A, E, G, D, and Em. He explains basic strumming patterns that easily allow the beginner to participate with the song and also explains more complex embellishments such as arpeggios and moving bass lines. This video is a typical example of Dyce's top-flight Fort Lauderdale Guitar lessons, and shows why he is in such high demand.
This Fort Lauderdale guitar teacher is also offering a new campaign to first time sign-ups: buy ten guitar lessons at the usual price of $60 each and get two lessons free! This is a one-time offer for new sign-ups and is a value of $120; an opportunity not to be missed!
Dyce Kimura is a bona-fide full-time guitar instructor, providing top-flight Fort Lauderdale Guitar Lessons. He has risen straight to the top of the competitive Miami scene as a recording artist, singer, rock n roll / blues guitarist and instructor! When Dyce is not teaching others, he can be found playing Christian contemporary, praise and worship music, and serving as both ministry and worship leader.
For more information on Dyce's latest video—or for signing up for this special discount offer—call 786 457 3687 today.