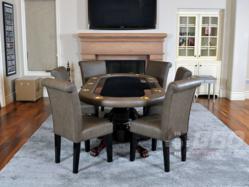 These are top-of-the-line premium products, hand-selected by me from manufacturers across the country that only offer the best
College Station, Texas (PRWEB) November 06, 2012
The Texas Poker Store has announced their new line of premium poker tables and other premium products just in time for the holidays -- all with free shipping -- to celebrate the successful release of their new poker music video, "I May Be Bluffin'," written and performed by Randy Pavlock and Twenty Four Seven and co-authored by Texas Poker Store Chief Dealer, Jim Paris.
Paris reported that the Texas Poker Store has teamed up with BBO Poker Tables to provide their customers with quality yet affordable professional casino-grade poker tables. "There are plenty of suppliers out there that concentrate on luxury poker tables that may be way too expensive for your average player. We believe that these tables will be just right for the discriminating player who is looking for quality without breaking the bank." says Paris.
The Texas Poker Store is also stocking up on other poker accessories for those who are looking for the best. Those accessories include Paulson Poker Chips in a variety of sets, ranging from a 100 Paulson® Tophat & Cane Clay Poker Chips set in a beautiful dark wood poker chip case, to a 1000 World Tophat & Cane Paulson® Chips set in a lightweight, heavy duty aluminum case.
"Our customers have also asked for products that are not poker-related," added Paris. "To fulfill their requests, we are now carrying a variety of other premium products, including a Black Jack table and some rotating 7-in-1 and 5-in-1 game tables that provide games for the whole family, including foosball, air hockey, pool (billiards), ping pong, chess, checkers and backgammon. In other words, that's hours of fun for everyone, which makes them a perfect gift for this holiday season.
Whether it's discriminating poker players searching for the best products to furnish their game rooms or man caves, or families searching for the perfect holiday gift, the Texas Poker Store is now catering to those individuals who want the finest products available in the market today.
"These are top-of-the-line premium products, hand-selected by me from manufacturers across the country that only offer the best," said Paris. "And best of all, these products will be shipped directly to our customers free of charge.
Located in College Station - Bryan, Texas, the Texas Poker Store is a fully-stocked online poker store that offers 100 percent secured shopping and features hundreds of poker supplies. The Texas Poker Store was founded by Poker Lovers and Die Hard Players, Jim and Lynn Paris. We live in Texas, we play Texas Hold 'em and we welcome you to visit our store.You can find the Texas Poker Store at http://www.texaspokerstore.com, visit their blog at http://www.texaspokerstoreblog.com, follow them on Twitter, FaceBook and on Pinterest.
Jim Paris
Chief Dealer
Texas Poker Store
302 N. Bryan Street
Bryan, Texas 77840
1-866-213-1594
979-595-7390