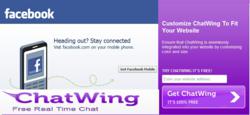 San Diego, CA (PRWEB) November 03, 2012
Social media has helped thousands of people achieve their daily goals. Based on global statistics, many people are now relying on social media when it comes to information relay. Social media has also helped entrepreneurs prosper, letting them reach large groups of people in just few clicks of the mouse. Realizing this fact, Chatwing's core developers have created a free chat widget that can be used as Facebook social expansion tool. The Chatwing app can provide a new stream of communication that can be utilized by everyone.
Facebook marketers were among the first ones that have tried the recent innovations brought by the Chatwing chatbox. One of these innovations is the background image upload feature. With this, users can input a link to their favorite image. Once the image has been selected, the Chatwing platform will detect it right away. Many Facebook marketers have benefited from this feature because they were able to establish their respective brands.
One of the strong features of the Chatwing free chat box is social media integration. For many web users, this is a clear sign of online leverage. This feature allows users to log in with their Facebook or Twitter accounts. With this, visitors can send out invitations to each other, expanding their social networks within days or weeks. The Guest login option is still available, and users can pick their own avatars. It has been implied that the Chatwing Team will add more avatar styles in the coming months.
The Chatwing chat box has just started in showcasing its innovations to everyone. Its developers are currently working on a strategic plan that will introduce more upgrades. These upgrades will bring a new website chat experience to people, especially to those who rely a lot on social media.
About Chatwing.com
Chatwing.com specializes in the new field of website chat. Over years, the Chatwing team has introduced live chat widget for hundreds and thousands of blogs. The Chatwing application bridges people from many parts of the world, creating global synergy through the Internet. The shout box can be installed in just seconds, and it can be used for varying purposes such as leisure and Internet marketing. It also allows a user to customize the size, color, and name of the widget. Chatwing is 100% free for everyone.