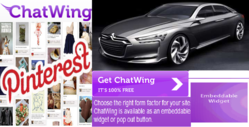 New York, NY (PRWEB) November 03, 2012
Luxury cars are now common in the Pinterest community, along with many trendy gadgets and consoles. The interest for luxury cars went an all-time high, leading to the growth of the niche. Recently, the Chatwing Team has launched a free chat widget that can be used by Pinterest fans to discuss the luxury cars they like. The Chatwing chat app offers customization options for website owners, as well as social media leverage.
Chatwing's free chat box can be used for many purposes, such as online marketing, leveraging, social network expansion, and even personal dating. Website owners can customize the chat app according to their preferences. In the latest version of the Chatwing app, users can modify the colors and sizes independently. They can even add word filters to make the chatroom profanity-free. The Chatwing team has also banked on admin control, allowing the user to ban obscene members that may cause nuisance.
Pinterest luxury car fans can also use the free shout box to find more friends and discuss important topics about famous cars. Chatwing's developers have observed that car engines and 'mods' are important topics nowadays. These fans tend to exchange social media links in the Chatwing chatroom.
Chatwing's free chat widget can now be utilized in a global scale. Across the online arena, online entrepreneurs are now using the chat app to find more leads. Other website owners have also started using the Chatwing chatroom to generate traffic for their websites. The Chatwing team plans to handle the influx of users by introducing more upgrades to the platform.
About Chatwing.com
Chatwing.com specializes in the new field of website chat. Over years, the Chatwing team has introduced live chat widget for hundreds and thousands of blogs. The Chatwing application bridges people from many parts of the world, creating global synergy through the Internet. The shout box can be installed in just seconds, and it can be used for varying purposes such as leisure and Internet marketing. It also allows a user to customize the size, color, and name of the widget. Chatwing is 100% free for everyone.