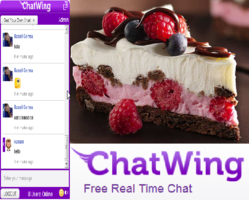 Dallas, TX (PRWEB) November 03, 2012
Pinterest, despite being new in the online arena, is now gathering fans from different parts of the world. Many professionals attribute this fact to the social site's capability of showing different interests and niches to people. The Chatwing Development Team has recently noticed that the food community in Pinterest is entering a significant growth. In response to this, the Chatwing team has launched a customizable chat widget that can help fans find more friends. The Chatwing app can even utilize social media.
Food images are scattered across the different areas of Pinterest. These images, once clicked, will take the user to specific interests. The Chatwing chatbox can help Pinterest users find new friends, so there will be more interests to discover. Visitors of the Chatwing chatroom can even use their social media accounts as login options. This social media feature allows a user to expand his networks significantly.
Website owners can also install the Chatwing free chat box in simple and easy steps. After registering the website domain and email address, the user can now proceed to his Chatwing dashboard. He can now access Chatwing app's wide customization options. Colors and sizes can be edited independently, allowing the user to create a widget aligned with his preferences. The user can also upload a background image to keep the Chatwing chatroom enticing to visitors. This feature is useful for Pinterest fans who also have their own websites.
Chatwing's recent advancement to the Pinterest community opens a new communication opportunity for web users. The Chatwing team will also introduce new and helpful upgrades to the free shout box. These upgrades will allow more users to enjoy entertaining communication offered by the Chatwing chatroom.
About Chatwing.com
Chatwing.com specializes in the new field of website chat. Over years, the Chatwing team has introduced live chat widget for hundreds and thousands of blogs. The Chatwing application bridges people from many parts of the world, creating global synergy through the Internet. The shout box can be installed in just seconds, and it can be used for varying purposes such as leisure and Internet marketing. It also allows a user to customize the size, color, and name of the widget. Chatwing is 100% free for everyone.