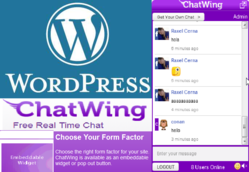 Albuquerque, NM (PRWEB) November 03, 2012
Chatwing Team has just launched a live and free chat widget that can be used by niche website owners in Wordpress. This recent chat app from Chatwing allows social media integration and full widget customization. Lots of customization options are now available to the average user and the widget can be installed in just seconds. The Chatwing chat app also allows CSS customization for advanced programmers.
The free shout box offered by Chatwing can take three different forms. The first form is the shoutbox style, and it usually takes the sidebar space of a website. The second form is the pop-up window—minimalists prefer this style because it only embeds a 'chat now' button. Visitors must click the button to open a new chat window. The latest style is called vanity URL. With this option, users can create their own shortlinks and send them to their friends and acquaintances. This is useful for private conversations between people.
Wordpress niches have varying rates of popularity, and it all depends on the marketing efforts of website owners. Niches rise and fall because of demands and growing tastes of people. Chatwing's free chat box can be used in a general scale. Any Wordpress niche can be empowered by the Chatwing chat tool. Chatwing's developers have banked on the chat tool's wide accessibility rate and online presence improvement.
Many website owners who have used the Chatwing free chatbox saw significant leaps in the online presence of their websites. The Chatwing team has noted that these rates of online presence will arrive in just few days of shoutbox usage. Many factors are also included, such as website content, activity, marketing, and the credibility of the website owner.
About Chatwing.com
Chatwing.com specializes in the new field of website chat. Over years, the Chatwing team has introduced live chat widget for hundreds and thousands of blogs. The Chatwing application bridges people from many parts of the world, creating global synergy through the Internet. The shout box can be installed in just seconds, and it can be used for varying purposes such as leisure and Internet marketing. It also allows a user to customize the size, color, and name of the widget. Chatwing is 100% free for everyone.