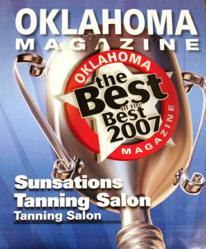 Sunsations Tanning announces special tanning incentive to celebrate 'Vitamin D Awareness Month" and make Tulsa aware of the benefits of tanning.
Tulsa, OK (PRWEB) November 02, 2012
In honor of "Vitamin D Awareness Month," Sunsations Tanning new owners Deloris (R.N.) and Paul McCarty announce a Special 'Daylight Savings happy hour' between now and December 31st to give new and current customers of time to benefit from Vitamin D in spite of shorter days of sunlight. "We want to make Tulsa and all of Oklahoma aware of the many health benefits of tanning," says McCarthy.
Autumn can be a sad time for many as fewer hours of sunshine and lack of Vitamin D begin to take a toll on health and happiness. Doctors recommend Vitamin D and tanning can be a big boost to health year round. With daylight savings time changes this Sunday morning, Oklahomans will have even less sunshine during the evening hours, in addition to shorter days.
Voted 'Best of the Best' by Oklahoma Magazine and called Tulsa's cleanest and friendliest tanning facility by many are just two of the many reasons clients keep coming back again and again. In fact, many tanners love Sunsations so much they take advantage of the annual tanning packages that saves them 37% off the regular tan as you go pricing.
Sunsations offers UV free Airbrush tanning and 3 levels of Tansas tanning beds, including wide-body bronzing beds and standup beds! All their beds are very effective and comfortably placed in beautifully decorated large private rooms.These are the hottest lamps and luxury at discounted prices!
They offer professional Airbrush tanning by appointment; amazing "TAN" UV free.
Sunsations requires no contractsand offers UV tanning and UV free Airbrush tanning by single session, multi-session, monthly unlimited, and multi-month pricing."I.D." discounts include students, teacher and military (ID required)
Sunsations is throwing a customer's appreciation open house on Thursday November 8th from noon to seven pm. Come meet the staff and owners of Sunsations Tanning Salon. Check out the event on Facebook to learn more.
Sunsations is located at 6532 E 71st St, Suite 103, Tulsa, Oklahoma 74133 on the SE corner of 71st and Sheridan. And open daily except Sunday.