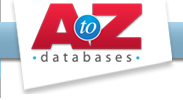 Omaha, NE (PRWEB) November 02, 2012
AtoZdatabases, the leading provider of job searches, reference, and marketing databases for public libraries, academic institutions, and government agencies, has just launched a new and improved version of its homepage, available to library patrons across the United States.
AtoZ has been revolutionizing the reference and marketing database industry for nearly two years, offering 30 million businesses, 215 million consumers, and millions of specialty records at a 30% lower price than its competitors, all within a user-friendly application. Now, AtoZ is staying at the front of the pack by enhancing its application and incorporating a number of new searches.
The Features of AtoZdatabases' New Homepage Include:

NEW 2 minute 'How To' video
NEW Find a Job Search
NEW Find a Doctor Search
Better messaging to highlight all applications of AtoZ's databases
"AtoZ is continuing to lead the industry in terms of innovation. This includes listening to what our customers want and incorporating those features into our product," says Rakesh Gupta, President of AtoZdatabases.
Special Offer: For a FREE 30-Day trial of AtoZdatabases, please call toll-free at 877-428-0101 or email Christine.Smailys@AtoZdatabases.com.
About Us: AtoZdatabases, powered by DatabaseUSA.com, is a leading provider of reference and marketing databases for libraries, academic institutions, and government agencies in the United States.