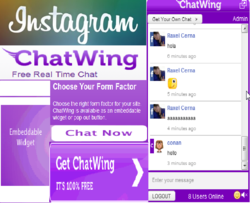 Portland, OR (PRWEB) November 05, 2012
Chatwing has recently introduced a new social chat widget for Instagram fans. This chat application can be installed in any website or blog, and it also allows social media integration freely. Customization options are also offered in the Chatwing app so users can design their own widgets in just few seconds.
Instagram has attracted hundreds and thousands of users from different parts of the world. With its sudden appearance, users were able to edit their pictures, creating 'photo attitudes' that will add curiousity and enjoyment. Once beautified, these pictures can be shared through social media sites, such as Facebook and Twitter. Chatwing's free chat box can help Instagram fans discuss photo angles, editing options, or even the best locations to capture photos. Chatwing visitors can also log in with their social media accounts.
Chatwing's free shout box has wide range of modification choices. In the app dashboard, users can set the colors and sizes independently. Adding to that, they can even set word filters to keep the chatroom free from profanity. To add word filters, users just need to type words in the filter box. Automatically, once the chatbox goes live, the words will be detected.
Users can even ban obscene members from the chatroom. This can be done in just one click. Message deletion is also allowed for Chatwing users, so that full admin control is possible. To keep users enticed and satisfied, the Chatwing team will introduce more upgrades to the free shout box. Chatwing-related content will also be posted in the company's official Facebook page.
About Chatwing.com
Chatwing.com specializes in the new field of website chat. Over years, the Chatwing team has introduced live chat widget for hundreds and thousands of blogs. The Chatwing application bridges people from many parts of the world, creating global synergy through the Internet. The shout box can be installed in just seconds, and it can be used for varying purposes such as leisure and Internet marketing. It also allows a user to customize the size, color, and name of the widget. Chatwing is 100% free for everyone.