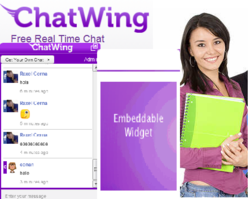 Cambridge, MA (PRWEB) November 05, 2012
Chatwing Development Team announces the launch of its new chat widget to the Instagram community. This latest chat application from Chatwing can be used by Instagram users to share their edited pictures, gather information, and even make new friends. Instagram photo bloggers can even use the Chatwing app to improve the online visibility of their blogs. Chatwing's recent advancement to Instagram is just one in its complex strategic plan.
Instagram bloggers can install the Chatwing chatbox in simple steps. Website registration is the first step. After that, the user can now proceed to the Chatwing dashboard. Here, Chatwing showcases its vast array of customization options. "We give users a clear advantage when it comes to customization. Colors can be interchanged to find the right mix. Basically, it's all about experimentation and any widget style is possible," Says Mike Diamond, one of Chatwing's core developers.
Earlier versions of Chatwing free chat widget has been introduced in blogging communities, wiki sites, and even forums. The versions received mostly positive feedbacks and suggestions. The Chatwing Team has noted all of these suggestions and used them as templates for introducing new upgrades.
Instagram photo-sharing is also now possible in the Chatwing free shout box. Users can just post links of their Instagram photos, and they can ask for comments or likes. Additionally, Instagram fans can exchange social media information.
About Chatwing.com
Chatwing.com specializes in the new field of website chat. Over years, the Chatwing team has introduced live chat widget for hundreds and thousands of blogs. The Chatwing application bridges people from many parts of the world, creating global synergy through the Internet. The shout box can be installed in just seconds, and it can be used for varying purposes such as leisure and Internet marketing. It also allows a user to customize the size, color, and name of the widget. Chatwing is 100% free for everyone.