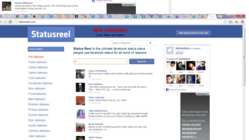 Cambridge, MA (PRWEB) November 05, 2012
The Statusreel Team is back on track by creating a new application that utilizes the sheer importance of a Facebook status. With an innovative platform, the Statusreel app can now use keywords to connect people with same interests. Additionally, the Statusreel app can be installed to any blog or website, offering the leverage to visitors and other users as well. Statusreel developers have also emphasized that the application can be used for social media marketing campaigns.
Using Statusreel app is easy. First, the user must put some words related to his interest. For example, he can put Mafia Wars if he is looking for more friends in the popular game. Second, he must click the search button so that the application can start locating Facebook users who put the words in their statuses. In just seconds, the Statusreel app will display the Facebook users who used the relative keywords.
Social media marketers can use the application as much as often as they like. With Statusreel's unique platform, finding warm market leads will become an easier thing to do. Keywords can vary – from simple and general ones to specific and group-targeted. Basically, anyone can experiment with keywords. Aside from social media marketers, casual date hunters have recently been using the Statusreel widget. With the help of Facebook statuses, these users can now build strong and happy relationships.
Statusreel also categorizes different statuses so that everyone can use them anytime. The best status for Facebook varies, but it can attract the attention of other Facebook users. To make the Statusreel widget more efficient and faster, the Statusreel team will incorporate developments in the coming months.
About Statusreel
Statusreel.com is a product designed to give end-users an instant amount of Facebook statuses in real-time. Users can search via keyword or by subject matter to see what chatter is taking place publicly on Facebook and the web. Statusreel also allows websites and blogs to embed a Facebook status widget directly into their site. Statusreel is a web-based Facebook tool that is 100% free.