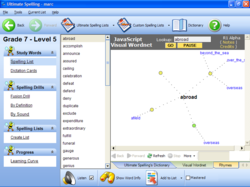 This study proves that methods to improve spelling don't need costly and time-consuming activities.
New York City, NY (PRWEB) November 09, 2012
A study published in the Academic Research Journal by scientists at Gonzaga University in Spokane, Washington, found that "spelling racetrack" games are an engaging and extensively effective technique for teaching young learners how to spell. The study was modeled on the "reading racetrack" technique, which helps children make visual connections and improve fluency by drawing their attention to words written in the shape of an oval racetrack, along which they move a car as they read. The purpose of the study was to see if the same improvement shown in readers would occur in spellers, using the same techniques.
The study was carried out with young children with learning disabilities and proved that the racetrack spelling games improved their overall spelling accuracy by 27%. Given the fact that the racetrack activity only took 5 minutes per session, the results are rather astounding. The potential of optimizing this technique through more research and application means that more astonishing results are to be expected soon.
Marc Slater, the managing director behind Ultimate Spelling, commented on this research. He says, "Here at Ultimate Spelling all efforts to improve the methods of teaching spelling are enormously appreciated, as our primary aim is to provide people with state-of-the-art, effective spelling opportunities. The exciting thing about racetrack spelling techniques is that it's a low-cost, effective, and utterly engaging intervention for spelling improvement. For that reason, its implementation and integration across classrooms shouldn't pose any problems for teachers no matter their classroom situation. In addition, it's a technique that parents can easily use to help their children improve spelling."
The racetrack technique is successful because it involves multiple learning modalities. The child is required to read the word aloud, spell it out loud, and then write it down. This spelling technique seems to be universally successful because it focuses on both the shape and the sound of a word, giving the learner a comprehensive idea of all the important aspects of a word at the same time.
This study proves that methods to improve spelling don't need costly and time-consuming activities. Simply drawing a racetrack on a piece of paper or investing in spelling software that uses this proven method of instruction are more than enough resources for practicing this highly efficient spelling technique.
Emphasizing the applicability of this amusing and easy to implement technique, Slater states, "From now on it will be impossible to say that all spelling methods are boring or ineffective, because the racetrack method has turned upside down what we previously thought about spelling and its difficulty."
For more information on the racetrack spelling technique as well as the features of Ultimate Spelling, please visit the official website at: http://www.ultimatespelling.com.
About Ultimate Spelling™
Ultimate Spelling provides a modern and easy to use spelling software that has been designed with one goal in mind – making children WANT to learn.
It is a fast and easy way to master even the most complicated spelling, without the need to write long lists or complete boring tests.
In fact, Ultimate Spelling provides more than just spelling help. It is a complete educational resource that boosts all level of a child's literacy.
Containing a personal computer tutor, Ultimate Spelling is the most realistic step-by-step guide to flawless spelling ability.