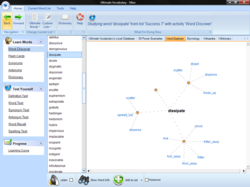 ...a strong vocabulary depends on the foundations we lay when kids are still in kindergarten.
New York City, NY (PRWEB) November 11, 2012
During the Kindergarten Parent Information Night at Weedsport Elementary School in New York, held for September's newcomers, instructors and child specialists stressed how important vocabulary building is for the development of other language related skills. The teachers underlined the significance of vocabulary as a core element for the development of expressive and communicative skill for kindergarten-aged children.
Kathy Hobart, a language expert, illustrated to attendants how a strong vocabulary depends on the foundations we lay when kids are still in kindergarten. Easy techniques and fun activities for engaging children in vocabulary building were also presented to parents.
Marc Slater, director of Ultimate Vocabulary™ commented: "We're glad that teachers are beginning to realize the centrality of vocabulary for the progress of other linguistic skills. It's a welcome development that kindergarten has begun to integrate vocabulary building in their curriculum through games and activities."
At the informational session, technology was praised as one potent tool parents possess and should utilize in making learning attractive to children. Language specialists encouraged parents to use technology to connect and communicate with children.
The specialists asserted how at this tender age, children seek communication above anything else, so giving them the tools to express that need is essential. Every moment constitutes an opportunity for vocabulary building. Parents just need to put their mind to it and they'll be surprised by how quickly children absorb and correctly use new vocabulary.
Slater further noted, "We tend to underestimate what children can learn at kindergarten, but in fact, these prove to be key years in a child's subsequent intellectual and communicative development. Language aspects such as increasing vocabulary are the cornerstone of proper and precise language use."
For more information on this review and how you can benefit from Ultimate Vocabulary, please visit its official website, http://www.ultimatevocabulary.com.
About Ultimate Vocabulary™
Ultimate Vocabulary provides a proven and powerful platform, built to improve anyone's vocabulary.
The interactive self-improvement system provides more learning tools than any other program on the market, as well as more information on words.
The Ultimate Vocabulary software provides each and every user with a personal computer tutor. Providing a step-by-step guide to learning a powerful vocabulary, Ultimate Vocabulary is the learning tool everyone can benefit from.
Of course, the software is also backed by eReflect's iron-clad money back guarantee.