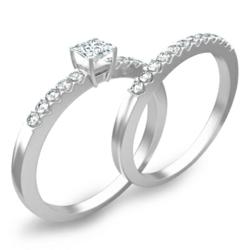 Silver Gemstone Rings is available at affordable prices. The silver rings are set with diamonds and gemstones
Baltimore, MD (PRWEB) November 04, 2012
Sterling silver rings are becoming increasingly popular as time goes on. Silver bands and diamond silver rings are a great choice for any occasion, since they are so cheap compared to other types of rings. Silver can be used to make any type of ring such as promise rings, engagement rings, wedding bands, and more. The increase in demand for silver rings has convinced JewelOcean to modify its collection of beautiful sterling silver engagement rings.
JewelOcean has many options available for those interested in silver engagement rings. There are all different types of rings for any occasion, as well as rings with unique designs. The sterling silver engagement rings found on JewelOcean.com continuously please customers, as their significant others cherish the rings forever. On the company's website, there are diamond silver rings, silver bands, and even gemstone silver rings.
The many styles allow silver gemstone rings to climb up the bestseller list on JewelOcean.com. Each style is unique to a specific taste, allowing every customer to find the perfect silver engagement ring for their partner. Ranging from sizes 4.5 to 9, every individual will find the perfect fit. Even if a customer requests a size smaller than 4.5 or larger than 9, the customer service team will likely agree to arrange a custom ring creation.
Styles on JewelOcean.com vary greatly. Simple silver bands can be purchased, or more complex, extravagant diamond silver rings can be found. There are also gemstone rings, incorporating beautiful gemstones such as amethyst, aquamarine, citrine, diamond, emerald, garnet, pearl, peridot, ruby, sapphire, and topaz. JewelOcean's collection now includes round cut gemstone rings or plain silver bands.
Not only does JewelOcean provide silver rings for women, but they also offer sterling silver rings for him and her. There are matching silver bands, diamond silver rings, or even rings for just men. This is a great place for a woman to find the perfect ring for her man, especially with all of the customization options available. If a customer opts to get the ring engraved, there is a small additional fee.
Cost is always a major factor when it comes to purchasing a ring. JewelOcean provides its customers with the lowest price guaranteed. The sterling silver engagement rings on the company's website range from $139 to $310. This is the perfect price range for someone who has a fairly low budget. For information on layaway payment options, visit the information page on JewelOcean.com.
JewelOcean, a leading online jewelry provider, specializes in silver rings and sterling silver engagement rings. Customer satisfaction is guaranteed, as JewelOcean provides 24/7 customer service, as well as a 30 day refund policy. JewelOcean has provided customers with the highest quality sterling silver rings for over 10 years now, and the company is only increasing in popularity. For more information, visit JewelOcean.com.