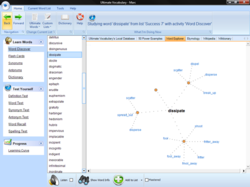 This intertwined learning allows students to remember things better and to get an across-the-board knowledge on a topic.
New York City, NY (PRWEB) November 15, 2012
Approaching a topic from all relevant and possible aspects ensures that the learner will be fully immersed in what the topic is all about. An interdisciplinary topic approach ensures that the knowledge a child is exposed to, acquires substantial additional meaning when all other aspects of that knowledge are also incorporated, such as the scientific, linguistic, social, and pragmatic elements. This is the "multi-class approach" aka topographic mapping which has been conducted in Glenview Middle School in East Moline, Illinois last June of this year.
Marc Slater commented on this mushrooming trend for multi-class approaches, saying, "It's like when you're learning new words - the more knowledge you can access about that word, the more memorable and applicable that word will be."
Mr. Slater, the director of Ultimate Vocabulary and an expert on multifaceted approaches to learning, continued by pointing out, "Isolated knowledge is neither useful nor applicable. However, once you put that knowledge in a wider, all-inclusive context, making all connections and bringing forth any background knowledge that almost guarantees that learning will be successful."
The multi-class approach instills in children the habit of seeking complete, integrated knowledge. Ultimate Vocabulary™ encourages teachers to use all-inclusive learning techniques; not just to read a story to children, but to develop instructional methods that help them to see it happen, to stretch and adjust it to other spheres of knowledge, and most importantly to make it relevant to the student's own reality.
This intertwined learning allows students to remember things better and to get an across-the-board knowledge on a topic. Some students do this naturally; others need someone to indicate the method to them.
"Once you show children how everything is connected, they will start making conscious efforts to apply that knowledge to different disciplines, rather than making do with isolated, dry knowledge. Besides, the connections are there. All you need to indicate is a common theme or value around which the knowledge will be built," Slater commented.
This learning integration can significantly boost vocabulary learning too; children will start making connections around new words that would previously have been hard to imagine. Seeing or practicing a word's meaning, and using it in different contexts, accelerates the acquisition process.
It's ultimately about context: making connections and taking a step back to integrate all knowledge into a single perspective, so that everything fits together and makes sense.
For more information on this review and how you can benefit from Ultimate Vocabulary, please visit its official website, http://www.ultimatevocabulary.com.
**********
About Ultimate Vocabulary™
Ultimate Vocabulary provides a proven and powerful platform, built to improve anyone's vocabulary.
The interactive self-improvement system provides more learning tools than any other program on the market, as well as more information on words.
The Ultimate Vocabulary software provides each and every user with a personal computer tutor. Providing a step-by-step guide to learning a powerful vocabulary, Ultimate Vocabulary is the learning tool everyone can benefit from.
Of course, the software is also backed by eReflect's iron-clad money back guarantee.