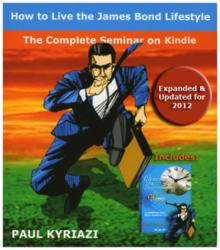 What would James Bond do if he had my problem?
Los Angeles, CA (PRWEB) November 04, 2012
The term 'James Bond Lifestyle' was coined in 1998 by Paul Kyriazi, director of six feature films and creator of the 'How to Live the James Bond Lifestyle' taught at The Learning Annex and SpyFest on the Queen Mary.
"At that time," Kyriazi says, "people would ask me, 'Is this about being a mercenary and womanizer?' And they weren't joking. But now in 2012, advertisers and newscasters are using the term 'James Bond Lifestyle' to refer to a luxury lifestyle, which I always intended it to be." 007 is not only a man of action, as all heroes are, he is also a man of leisure and prosperity. Before he goes on a mission you'll find Bond at a casino or resort such as Miami's Fontainebleau hotel as he was in 'Goldfinger'.
The Fontainebleau was also Frank Sinatra's hangout and before James Bond became the number on male fantasy icon, Sinatra held that position with his similar lifestyle of tuxedos, casinos, money and beautiful women. But the third Bond movie 'Goldfinger' in 1964 took that position away from Sinatra and Bond has held it ever since.
"Prosperity, cash and international travel is what fans of James Bond want," Kyriazi says. "In fact, recently when asked what his biggest extravagance was, Bond actor Daniel Craig said, 'Travel'. And it's travel, money, freedom and confidence that men coming to my seminars are seeking."
Kyriazi point out, "The other important attributes of James Bond are, not folding under pressure as many people do. Bond can call up his talent at will and deliver on a deadline like he did when trapped in Ft. Knox in 'Goldfinger'. He had to kill a karate chopping henchman and then dismantle the ticking atomic time bomb. Now that's pressure.
"The other important aspect about Bond is that he never breaths a word about giving up. And since perseverance is the most important aspect of completing a mission, more than talent, intelligence or education, that's the most important aspect of Bond's personality."
When asked why he finally put his book on Kindle, Kyriazi answered, "Because of all the new gadgets that have been invented since my original book came out, plus all the new success techniques that I've learned in the past 14 years, the book needed an update. And it's exciting to think that it can now be read on a 'Q Branch' type gadget such as the Kindle, where readers can jump to any subject they need to get information to complete their mission. In the early days of 'Dr. No' and 'From Russia with Love', James Bond never had such a useful information gadget."
What can someone do right now without reading your book for life's challenges? Kyriazi was asked. "When your mission gets into a problem, or you're faced with a sudden challenge, ask yourself, 'What would James Bond do?' And the right answer will come back. He would improvise, adapt and overcome the problem using his cool perseverance."
The 354 page Kindle 'How to Live the James Bond Lifestyle' is also available on iTunes & Barns and Noble.