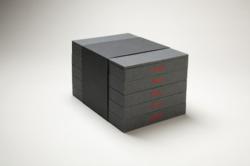 "San Francisco Center for the Book has mad skills that produce beautiful work," Paolo Salvagione.
San Francisco, CA (PRWEB) November 02, 2012
Paolo Salvagione has created a sensory Wunderkammer. His elegant cabinet of curiosities contains five drawers, one for each of the human senses. Each drawer holds a distinct, self-contained object — and in the playful manner that routinely characterizes Salvagione's work, the senses mingle in unexpected ways. http://sfcb.org/salvagione
The Imprint of SFCB is the publishing arm of the San Francisco Center for the Book, and a home for selected artists to learn the art and craft of the handmade book. The Imprint facilitates SFCB's mission of promoting the traditional book arts alongside exploration of experimental forms and techniques through two ongoing letterpress-based projects: the Artist in Residence Program and the Small Plates Edition Series.
Residency artists share their skills, processes and perspective through public lectures, workshops and by welcoming volunteer participation in the production of their editions which are printed and bound at the SFCB. The Residency hosts one artist (or artist team) per year, and concludes in December with a signed and numbered artist's book project issued in trade edition and deluxe edition versions. The artist-in-residency program is made possible through book sales, donations and artist sponsorships.
Paolo Salvagione, a San Francisco Bay area artist, based in Sausalito, was selected as 2012 Artist in Residence by the Imrpint Committee of the San Francisco Center for the Book. Previous artists have included Michael Bartalos and Kota Ezawa to name a couple.
Paolo Salvagione describes the edition as follows: "Three-dimensional projections emphasize the tactile nature of printed images. Silhouettes of leaves ask you to gauge species by contour, yet the absence of color brings attention to the visual. Talking tapes acknowledge a tangible aspect of sound. A musky, smell-based exploration summons up mental images of physical activity. A unique taste enhancer promises to temporarily bond to your receptors, making all things sour seem sweet — but first your fingers must negotiate the brittle blister pack. And all, in combination and individually, show how our senses can deceive us, and in the process yield something akin to a child's surprise at the roles these senses play in helping us navigate the world."
"One for Each" is a compact set of drawers, a box of English buckram and black leather, nearly 250 cubic inches of sensory activity. Salvagione has enlisted Boon Design to oversee typography, and Marc Weidenbaum to develop a series of short interlocking essays.
Book collectors and libraries will want to add this edition to their collection. Order a copy of "One for Each" until November 3, 2012 for a special price of $500.00 (after November 3, 2012 the price will be $550.00) Order at http://sfcb.org/salvagione
Edition of 40 signed and numbered by the artist.
About the Artist
Paolo Salvagione is an artist who works at the intersection of engineering, participation, and levity. He is an autodidact by trade and yet, as the son of a printmaker and the grandson of a sculptor and of an architect, very much an artist schooled in tradition. All his works balance humor and craftsmanship, the novel and the banal, the tactile and the conceptual. http://salvagione.com
Company Information: 
The San Francisco Center for the Book fosters the joys of books and bookmaking, the history, artistry, and continuing presence of books in our culture and enduring importance as a medium of self-expression. SFCB provides both a home for Bay Area book artists and a place where the wider community can discover book arts. Everyone is welcome at SFCB, experienced practitioners and newcomers alike.
Over 300 workshops annually offer learning at all levels: from introductory to focused advanced courses spanning traditional bookbinding, cutting-edge printing techniques and experimental book forms. Exhibitions are designed to inform and inspire visitors. Free public programs include opening receptions for the exhibition program, poetry readings, book release parties for our publications, gallery talks, Open Houses and other community events like the annual Earth Day Extravaganza and Roadworks Street Fair.
Contact Details: 
For general information on the San Francisco Center for the Book contact
Linda Marshall
Director of Marketing + Administration
415 565 0545
linda (at) sfcb (dot) org
For information on SFCB Imprint and Artist-in-Residence program, contact:
Rhiannon Alpers
Studio and Imprint Manager
415 565 0545
rhiannon (at) sfcb (dot) org