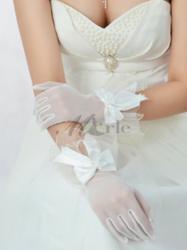 (PRWEB) November 02, 2012
Recently, Merle Dress, one of the leading wedding dresses companies, announced its new arrival of wedding gloves on Oct. 28. According to Donnie Terry, CEO of MerleDress.com, November is always the annual peak period of marriage, and wedding gloves are often easily overlooked, although a wedding dress is indispensable.
There is absolutely no question that the addition of gloves will add dignity and grace for a wedding ceremony ensemble. The proper gloves will lend an air of elegance to the exclusive occasion. Merle Dress is ready to assist the bridal to become the most dazzling female at her wedding.
The gloves can add the best finishing touch to a bridal or formal ensemble. They look fantastic with any strapless gowns. The matte satin isn't "shiny" satin, but a slight sheen that provides the silk gloves a look of elegance. The gloves have just a touch of spandex to offer them an ideal and cozy fit to any size hand.
"I'm very excited to be able to introduce our wedding gloves, and it'll make an extraordinary wedding. Wedding gloves are very stylish and elegant. They ought to reflect your personal style, but additionally compliment your dress and work harmoniously with all the rest of your respective bridal attire. Because of this it truly is important to decide on the proper length and type." Mentioned, Donnie Terry.
As for ways to select bridal gloves, Terry explained, "Your gloves could complement your gown. Choose easy satin or matte satin gloves to wear by using a heavily beaded or lace gown, and vice versa. Furthermore, gloves must constantly boost the bridal search, not overwhelm."
Besides the Wedding gloves, Merle Dress has also a rich range of wedding dress accessories, like headpieces & veils, etc. Merle Dress started with a basic idea of helping women dress better and is now famous for its outstanding quality in fabric, materials, and fit without the inconvenience and costs of traditional bridal boutiques and retailers.
For more about wedding dresses, please visit the Merle Fashion Tumblr Blog, or its blog at http://www.merledress.com/blog/