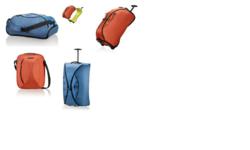 The bag can be used in two very different ways as there are two separable parts to the bag
Kent (PRWEB UK) 3 November 2012
The Duo Plyer is a unique idea (patent pending) of duffles and backpacks that would make the mind spin. Here is what makes this bag one of the best ideas out on the luggage market. The bag can be used in two very different ways as there are two separable parts to the bag. The trolley system has a full around zipping mechanism that keeps the both pieces of the bag as one and this allows the consumer to pull along the bag as an upright. If there isn't need for the wheels or if there is need to maximise space, just unzip and the duffle comes away from the wheeling section.
The bag is designed with a "flower-like" opening system to give full and easy access to the contents of the bag. The backpacks are equipped with an organisational system for electronic devices while the Duffles come with a removable laundry bag and mesh pockets. The retractable metal foot creates full stability for the bags and the items come with a numeric lock (except for the toilet kit)
Andy Steadman, Managing Director of Luggage Superstore, comments on the new range "This is a stylish and modern design that would definitely cause some head-turning. This would make any owner of this bag stand out from the crowd."
The range would appeal to young men and women who are looking for something very distinctive and of a strong reliable material who also loves moving with innovative designs.
Luggage Superstore's established site is in West Kingsdown, Kent. Their aim is providing competitive prices of the highest quality luggage and top calibre Customer Service for online luggage shopping.
Trina Chee-a-kwai
Luggage Superstore
01474854666
Email Information