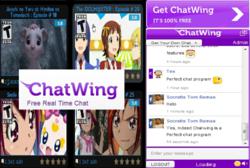 Houston, TX (PRWEB) November 06, 2012
Sword Art Online cosplayers are currently invited by the Chatwing Development Team to chat in its latest chat widget. The recent Chatwing app is a colourful micro-chatroom that can be installed to any website easily. Sword Art Online (SAO) cosplayers can use the Chatwing app to exchange cosplay tips and tricks, or to just basically talk about the famous Anime show. The latest version of Chatwing app is filled with important features, such as customization options and admin controls.
Chatwing's free chat box is now geared to bring a new communication experience for everyone. The Chatwing team believes that this can only be achieved by improving the platform and bringing lots of benefits to the average web user. With this belief, Chatwing's developers have worked on the customization and accessibility options of the chatbox. This new strategy presented the background image option, allowing users to upload background images to their Chatwing chatrooms. Colors and sizes can now be edited freely, so that users can design the widgets that would match their preferences. There are lots of colors to choose from, even though many users became content with Chatwing's default purple theme.
SAO fans have already started exchanging discussions in Chatwing chatrooms. Some of them hop from one Anime website to another, looking for valuable SAO information. Simultaneously, SAO episodes are being shown in several websites, catching the attention of many users. Chatwing's premier chat box can also improve any SAO online streaming activity. Since the Chatwing chatroom handles thousands of users, SAO fans can watch episodes while starting interesting discussions. Once enticed, these users will return to the streaming website and improve its visibility.
Chatwing's free chat widget has been subjected to numerous upgrades which will roll out in few weeks and months. These upgrades are focused on the Chatwing platform, and are bound to improve its speed and efficiency by a high percentage. The upgrades will also ensure that there will be no lags as more people will use the shoutbox every single day.
About Chatwing.com
Chatwing.com specializes in the new field of website chat. Over years, the Chatwing team has introduced live chat widget for hundreds and thousands of blogs. The Chatwing application bridges people from many parts of the world, creating global synergy through the Internet. The shout box can be installed in just seconds, and it can be used for varying purposes such as leisure and Internet marketing. It also allows a user to customize the size, color, and name of the widget. Chatwing is 100% free for everyone.