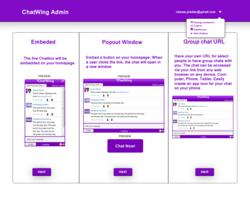 Dallas, TX (PRWEB) November 06, 2012
The Chatwing Development Team launched its newest chat widget to the Twitter community. This recent launch is aimed for Twitter users who are always seeking news about the latest gadgets. Chatwing's core developers have observed that gadget trends in Twitter appears, disappears, and reappears in just few days and weeks. Chatwing's chat app can be installed in any website, and it has various customization options.
In Chatwing's free chat box, users can log in with their Twitter accounts. This is useful for people who are looking for new followers, or just seeking trends. Visitors in the Chatwing chatroom can exchange social media information, along with latest news about their favourite gadgets.
Installing the Chatwing chatbox can also be accomplished in easy steps. First, the user must register his website's domain name. Next, he can now proceed to the Chatwing dashboard where he will gain access to wide customization options. There are lots of options to choose from, ranging from colors, sizes, and even admin control. Chatwing admins can even add unlimited chat boxes and moderators. According to many Chatwing users, these customization options have made the free chat widget more versatile and reliable.
Aside from Twitter community, Chatwing's free chatbox has also been introduced in other famous online sectors. These sectors start from fashion, current events, global trends, technology, business news, and many more. The Chatwing team also maintains a Facebook page to keep users well-informed about upcoming developments.
About Chatwing.com
Chatwing.com specializes in the new field of website chat. Over years, the Chatwing team has introduced live chat widget for hundreds and thousands of blogs. The Chatwing application bridges people from many parts of the world, creating global synergy through the Internet. The shout box can be installed in just seconds, and it can be used for varying purposes such as leisure and Internet marketing. It also allows a user to customize the size, color, and name of the widget. Chatwing is 100% free for everyone.