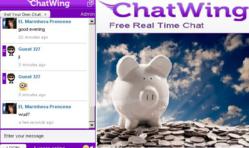 New York, NY (PRWEB) November 06, 2012
As the Internet progresses, the world of investments is entering a dynamic change as well. Online investments are now growing, and transactions can even be accomplished in plain seconds. At this rate, many professionals believe that the fragile line between calculated risks and schemes is becoming too thin. The Chatwing Development Team has recently entered the investment arena by launching its latest chat widget to young investors' communities. With Chatwing chat app, young investors can now gather much needed information about their ventures.
Chatwing's free shoutbox appears as a micro-chatroom that can be embedded to any website or blog. The default color theme of Chatwing app is purple, yet users can select any color they like. This customization freedom has benefited thousands of users, and will continue to do so. To further entice young investors, Chatwing's developers are continuously gathering important investment tips. Every now and then, the developers are sharing these tips in Chatwing chat boxes.
The Chatwing chatbox can also be installed in just seconds, and can even take three important forms or styles. The first form is the default shoutbox. In this form, the Chatwing chatroom can be installed in a website's sidebar. The second form is the pop-up window; minimalist website owners will enjoy this option because it consumes little space. Once visitors click the 'chat now' button, they can start chatting in a separate window. The third form is the vanity URL. With this style, the Chatwing admin can generate his own shortlinks and send them over to his friends. This initiates private chatting in the Chatwing chat box.
Chatwing's free chatbox offers a wide range of choices for all of its users. The developers have worked round the clock to ensure that the chat app will always function well. Maintenance schedules cannot be avoided—they are needed to avoid technical glitches in the future.
About Chatwing.com
Chatwing.com specializes in the new field of website chat. Over years, the Chatwing team has introduced live chat widget for hundreds and thousands of blogs. The Chatwing application bridges people from many parts of the world, creating global synergy through the Internet. The shout box can be installed in just seconds, and it can be used for varying purposes such as leisure and Internet marketing. It also allows a user to customize the size, color, and name of the widget. Chatwing is 100% free for everyone.