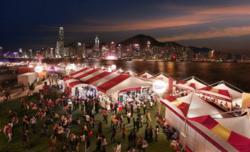 An intoxicating combination of fine wines and culinary delights
(PRWEB) November 02, 2012
Hong Kong 1st November 2012 – Vinitaly International returns to Hong Kong on the 3rd and the 4th of November at the Hong Kong Wine (Vinitaly) and Dine (IT-Chefs) Festival to accentuate the Italian lifestyle "dolce vita". Vinitaly has partnered with top Italian chefs for the third year in a row in Hong Kong but this will be the first time at the Kowloon festival. Vinitaly, the largest wine showcase in the world, had focused primarily on trade-based events in the past two years in Hong Kong but now also shifts to the consumer arena.
"Vinitaly International, promotional arm of Vinitaly, aims to promote Italian Wines in different market segments this year. Hong Kong International Wine and Spirits Fair and the Vinitaly Pavilion (Hall 3G) on November 8-10th for us is a consolidated showcase. On the other hand, winelovers will also be given a chance to be exposed to a taste what Italy has to offer at the Hong Kong Wine and Dine Festival on November 3rd and 4th at the Italian Pavilion. We are committed in our role to be the ambassador of Italian Wines to the rest of the world and Hong Kong has been very welcoming to date," commented Giovanni Mantovani, CEO of Veronafiere.
The best Italian chefs are going to be in Hong Kong, ready to show off talented cooking skills during two days dedicated to Italian cuisine. The best of Italian cuisine and of the top Italian wines, all combined together, will no doubt stimulate unforgettable experiences for the visitors.
The West Kowloon Waterfront Promenade is going to become the perfect spot for the Italian cuisine – incredibly popular now in Hong Kong – where visitors can enjoy the taste of many Italian food and wine specialties. Here, more than 150,000 people are expected to West Kowloon Waterfront Promenade.
An intoxicating combination of fine wines and culinary delights amid a stunning harbour backdrop landed this four-day event on the ForbesTraveler.com's top 10 list of international food and wine festivals in its inaugural year. Now in its fourth edition, the Wine and Dine Festival is going to become an authentic gourmet extravaganza. As DiscoverHongKong.com and Openrice.com write, 'the Wine & Dine Festival is an epicurean feast of wine-themed events that has helped establish Hong Kong as the principal place in Asia to enjoy the finer things in life, including wines from around the world paired with the creations of the city's culinary wizards'.
The Asia's world city will be a better place to relax and indulge in great food and drink whilst enjoying the nightly live entertainment and the beautiful world-famous Victoria Harbour. The Festival is becoming a must-attend for lovers of good Italian food and great Italian wines.
One of the main objectives of Vinitaly seems to be to decipher the complicated world of Italian Wines. "We want to reach out to the local wine consumers through our Vinitaly Wine Affair initiatives in the territory: we will stir interest to have your fall in love with Italian Wines, I'm sure this will happen soon. Sure, Italian Wines are not as well-established here as the French Wines and often quite difficult to navigate so we have an educational approach as well. There will be three Vinitaly Wine Bars "Red, White and Sparkling" to simplify the tasting category," emphasizes Stevie Kim, Managing Director of Vinitaly International. Showcased wines include:
Red Wine Bar:

Peppoli, Chianti Classico DOCG 2009
Tormaresca, Neprica Puglia
Tormaresca, Torcicoda Salento
Prunotto, Dolcetto d'Alba DOC 2011
Prunotto, Barbaresco 2008
Villa Antinori 2008
Sparkling Wine Bar:

Prosecco di Valdobbiadene Spumante Extra Dry 2011
Montenisa Brut Franciacorta NV
Prunotto Moscato D'asti DOC
White Wine Bar:

Barone Ricasoli, Torricella, Toscana IGT 2011
Batasiolo, Gavi di Gavi "Granee" DOCG 2011
Corte Giara, Chardonnay, delle Venezie IGT 2011
Allegrini, Soave DOC 2011
Livio Felluga, Sharis, IGT delle Venezie 2011
Tasca d'Almerita, Regaleali Bianco, Sicilia IGT 2009
The Vinitaly Wine Affair continues on November 7th with wine aficionados being able to enjoy the magic of Hong Kong by night in two vintage trams that ride along the coast featuring exclusively selected wines for a very special tasting. For more information http://www.vinitalytour.com
About Veronafiere:
Veronafiere is the leading organizer of trade shows in Italy including Vinitaly, the largest wine event in the world. In 2012, over 4200 exhibitors showcased their wines to 140,000+ visitors (35% from outside of Italy representing over 120 countries). Veronafiere created the Vinitaly in the World http://www.vinitalytour.com in 1998 to develop an international platform for the promotion of companies in the Italian wine and food sectors.