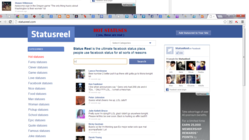 New York, NY (PRWEB) November 07, 2012
Many people are now discovering the long-term effects of natural Facebook marketing. Paid Facebook marketing is still more effective, but the natural process is gaining ground because of different choices and strategies. One of the most famous Facebook marketing campaign is page-making. With Facebook pages, a company can reach thousands of users in a shorter time frame. The Statusreel team has carefully noted this fact as they launched a useful widget that keeps track of Facebook statuses. The Statusreel widget tracks down these statuses in seconds, benefiting Facebook marketers and everyone, as well.
The Statusreel team has surveyed bloggers, Facebook users, and random web users regarding the usability of the widget. Most of the feedbacks were positive, and the team has also noted the suggestions given by those people. One of the most favoured factors about the Statusreel widget is the idea of connectivity through simple statuses. The Statusreel widget has also gained points in the area of easy installation process. Some users have suggested that the team should add more customization options for better usage.
Facebook marketers can even browse status categories in the Statusreel widget. Statusreel's developers have collected best and unique statuses all over the Facebook community. These statuses are now categorized in the following: funny, love, pickup, humor, food, man, woman, and many more. Recently, the team has added the 'hot statuses' categories in which famous words of Facebook users were compiled. This category base is updated regularly because Facebook users display erratic patterns.
Finding the best Facebook status in Statusreel app is attainable. This fact is based on the observation of the Statusreel team. Some statuses gather many likes, while others are just plain cold in the basis of popularity. The Statusreel team will continue adding more features in the coming months.
About Statusreel
Statusreel.com is a product designed to give end-users an instant amount of Facebook statuses in real-time. Users can search via keyword or by subject matter to see what chatter is taking place publicly on Facebook and the web. Statusreel also allows websites and blogs to embed a Facebook status widget directly into their site. Statusreel is a web-based Facebook tool that is 100% free.