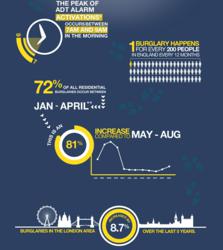 72% of the reformed burglars surveyed said they planned a break-in by researching a property before committing a burglary
England and Wales (PRWEB UK) 5 November 2012
ADT has produced a study of alarm activations across England and Wales to rank the areas of highest activity. An interactive map enables people to check their own area: adt.co.uk/alarm-activations-in-england-wales/
ADT have also put together interviews with a reformed criminal adding weight to the stats shown below. You can see the video here: youtu.be/uYllEQB7X2A
Researchers who have interviewed over 100 reformed burglars for the UK's leading home security company ADT, say their research has revealed an 'increasingly professional attitude' to committing a burglary and a growing 'culture of entitlement' whereby householders who fail to take simple steps to conceal or protect their valuables – for example by not closing curtains at dusk – as seen as evidence of a lack of care about their possessions and therefore a justifiable 'invitation to burgle'.
'Burglars are much more resourceful and strategic than the public are aware of; they approach burglary almost as if it were work, requiring the same organisation, planning and teamwork.' said Mark Shaw, General Manager for Residential Business at ADT. 'Opportunistic theft tends to be at a low level'.
72% of the reformed burglars surveyed said they planned a break-in by researching a property before committing a burglary, with many observing from gardens and bushes nearby.
The research showed that if a householder has not followed what they regard as basic rules of security, they are regarded as 'fair game'. Signals which encouraged burglars to proceed include; valuables in clear view 'I walk past their house and it's just all on show so if they haven't gone to the trouble of hiding it, I think you don't care', partially open windows, unlocked sheds and a lack of outside lighting.
The research revealed how gangs of two to three burglars can sweep through a property in five minutes by working together and checking as many as ten locations in a room: well aware of 'secret' hiding places many people use - including biscuit tins, cereal packets, fridges, freezers, washing machines, ovens, behind wardrobes, under mattresses, in pillow cases and at the back of sock drawers.
The research offered insights into key deterrents which would drive criminal gangs away from a property. These include gravel driveways 'because the crunching noise really travels at night', 'dogs - they make a noise and no-one wants to get bitten', 'new, secure-looking doors and locks', 'sensor lights' and 'CCTV'.
73% were always/usually put off committing a burglary by believing somebody to be in the house, 60% were deterred by the presence of a dog but only 6% were discouraged by evidence of a neighbourhood watch scheme.
4 out of 5 burglars would still target a home with a bell only alarm as they are 'going off all the time and everyone ignores them' whereas 94% would avoid a home with a monitored alarm and commented they would 'stay away like the plague', 'are the police on their way? Not worth it' and '[I] read magazines on security and know what to look for'.
Mark Shaw, General Manager for Residential Business at ADT said 'What people don't tend to think about is the emotional state that they could be put into by knowing that their house has been violated effectively by burglars coming into their property.'
'We want to urge homeowners to be even more vigilant and take the necessary steps to secure their possessions and ensure they feel safe in their own homes.'
It's not what they take, it's what they leave behind. http://www.adt.com