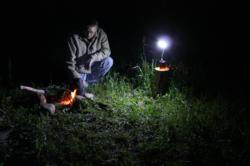 Our new tPOD web site offers efficient and highly functional alternative energy products and informs communities world-wide of the tremendous benefits thermoelectric power generators can provide. Clyde McKenzie, Chairman and CEO, Tellurex Corporation
Traverse City, MI (PRWEB) November 06, 2012
A global leader in both thermoelectric power generation and thermal management technology, Tellurex Corporation announced today the unveiling and launch of its thermoelectric power on demand tPOD web site http://www.buytpod.com.
The Tellurex team of engineers and product designers led by Rich Harmon, Program Manager, has developed two new alternative energy power generators that produce electricity from non-traditional energy sources such as common tea candles, rocket and camping stoves and even home kitchen and earth stoves. tPOD1 and tPOD5, small heat energy-driven thermoelectric power generators, are designed to provide hours of bright LED light and also to charge battery packs, cell phones and smart phones such as the iPhone and Android. The tPOD1 and tPOD5 are designed to be very dependable and critical components of all disaster-preparedness plans. Of course, they can come into play in any situation where utility grid electricity is simply not available.
"In addition to offering new tPOD1 and tPOD5 power generators at our tPOD web site http://www.buytpod.com, we intend to expand our line of thermoelectric power generation devices and accessories," stated Craig Tremp, President and COO of Tellurex Corporation. Tremp further stated, "We're close to having a tPOD1companion battery pack available that can be charged directly from just the heat produced by a common tea candle. The battery pack will, in turn, be capable of providing power to cell phones and smartphones."
Tellurex Corporation is a Traverse City, Michigan-based company pioneering in thermoelectric applications. The company develops its own products and also collaborates with others to advance its technology and product design into medical testing equipment, wireless sensors, thermally controlled enclosures and a variety of other applications in both power generation and thermal management.
FOR MORE INFORMATION, please contact Rich Harmon at 231-947-0110, or rharmon (at) buytpod (dot) com.