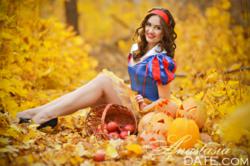 Party Mood Enhanced by Eye-Catching, Elegant Costumes Prepared by Ladies
New York, NY (PRWEB) November 07, 2012
AnastasiaDate, home to the world's most beautiful and caring women, pulled out all the hypnotic stops to host an enchanting Halloween celebration online. The exciting international dating service, which provides gentlemen with the highest response rate in the dating industry, hosted a themed Live Chat party full of bewitching beauties. Ladies from Russia and Ukraine had the chance to take part in the Halloween festivities, traditional to the United States, in line with the site's mission of removing all barriers to romance.
Anastasia constantly enables men and women from different countries to share popular global holidays and traditions like Halloween. Western countries are often seen by Russia and CIS countries as trend-setters in the area of entertainment, often adopting new and interesting Western traditions. Courtesy of the internet, thousands of people date online every day at AnastasiaDate although they'd never normally have met on the street.
Reaching out to their new friends over the Atlantic on All Hallow's Eve, the Russian and Ukrainian ladies published their exciting photos on AnastasiaDate showing off their carefully selected Halloween costumes. These pretty pixies and charming beauties – just real women with hearts full of hope – are all looking for a partner for life, not just someone to celebrate Halloween with.
Nobody wants to be alone for the holidays. This is especially true when people get together for a celebration of all things scary. As AnastasiaDate statistics show, the level of correspondence during the Halloween period rises by 25%.
About 300 couples every quarter find their happiness in marriage with the help of AnastasiaDate. That number is expected to rise as people open their hearts a little more than usual during the exciting celebrations of Halloween and wintertime.
ABOUT ANASTASIADATE
Founded in 1993, AnastasiaDate is a premier international online dating portal that enables men to establish rewarding relationships with exciting women worldwide. Anastasia provides the highest response rate in industry due to a comprehensive verification system which engages only real, pre-screened, and approachable women from abroad. Based on cutting-edge technology and superior 24/7 customer support, Anastasia features state-of-the-art Search Engines, Email, Live Chat, Video Date and Phone Connections. Anastasia offers "safety first" online dating, a secure and transparent payment system and absolute discretion. Anastasia's Family of sites includes AnastasiaDate.com, AmoLatina.com, AsianBeauties.com and AfricaBeauties.com which together count over 3 million members. To learn more please visit http://www.AnastasiaDate.com.