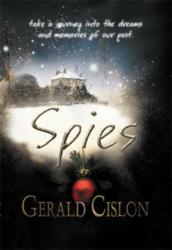 My biggest hope is that the book inspires parents, children, families to rejoice in the Christmas season together and in the way that it was truly meant to be celebrated.
HINESVILLE, Ga. (PRWEB) November 05, 2012
Sometimes, spying on Santa can lead to very unexpected circumstances. Gerald Cislon uncovers what happens when a wily bunch of child spies don't like what they overhear from Santa in his new book, "Spies." The book, Cislon's first foray into children's literature, highlights the journey that some children must take in order to understand the true reason behind the season.
"The story starts with saving Christmas," Cislon says. "By the end of the book, these nine children end up bringing Christmas to people with even greater needs."
The story follows nine children as they discover that their parents may not always be able to deliver the cushy presents that they want. Instead, some very real world issues, such as a broken truck and an economic downturn, have hit 'Santa' right where it hurts--the checkbook.
The older children realize that they will have to mobilize the others in order to give their parents and siblings the Christmas they deserve. What they don't realize is that this conundrum is all part of a grand plan to teach them that family is what the holidays are really about.
"The children in this book aren't taught or preached to-- they work and learn together," Cislon says. "Together, they learn that the gifts of giving and sharing are much more important than merely receiving."
"My biggest hope is that the book inspires parents, children, families to rejoice in the Christmas season together and in the way that it was truly meant to be celebrated."
For more information, visit http://www.geraldcislongander.com
Book available for purchase on Amazon, Barnes and Noble or XLibris
"Spies"
By Gerald Cislon
ISBN: 978-1469184890
Softcover, retail price: $19.99
Hardcover, retail price: $29.99
E-book price: $3.99
About the author
Gerald Cislon was born and raised in Pittsburgh. Drafted into the Army during the Vietnam period, he decided to make the military his career. Now retired, Cislon focuses on writing, woodworking and cooking. He has written many other novels, including his acclaimed first novel, "Til the End of Time."