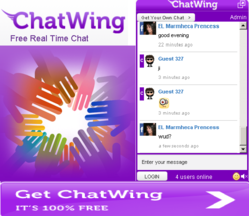 Los Angeles, CA (PRWEB) November 08, 2012
Despite the plethora of activities that can be explored in the World Wide Web, online news radio streaming is still a common ground. Many users listen to online radio websites because of the fresh information flowing in; they can also listen while accomplishing other things in the Internet. Chatwing has recently introduced a free chat widget to online radio sites. This simple chatroom application ensures global connectivity by a large scale and also empowers social media usage.
Chatwing's free chat widget also offers a wide array of customization choices for everyone. Online radio site owners can utilize these customization choices to create a chatroom that can attract thousands of visitors. The average installation time of the Chatwing chat app is one minute, but it can go lower or higher—it all depends on user choices.
Profanity filter in the Chatwing chatbox has also been improved. Now, users can just put profane words in the filter box. As the Chatwing chatroom goes live, it will detect profane words in order to preserve the credibility and reputation of the website. Admin control is also revamped, so that users can moderate the chatroom wholly. Users can delete messages in just one click and they can even ban members—complete with a personalized ban message.
Chatwing Dev team will continue introducing the free chatbox to different online sectors because the premise of online chat is needed everywhere. Chatwing's developers are currently working round the clock to ensure that the new upgrades will be introduced in few weeks or months.
About Chatwing.com
Chatwing.com specializes in the new field of website chat. Over years, the Chatwing team has introduced live chat widget for hundreds and thousands of blogs. The Chatwing application bridges people from many parts of the world, creating global synergy through the Internet. The shout box can be installed in just seconds, and it can be used for varying purposes such as leisure and Internet marketing. It also allows a user to customize the size, color, and name of the widget. Chatwing is 100% free for everyone.