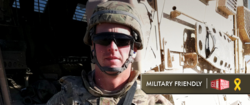 "Our Military Lounge is just one of a collection of initiatives PTI has introduced to salute and pay tribute to those who have served us in the defense of democracy and the freedoms we enjoy." Greg DeFeo, President, PTI
Pittsburgh, PA (PRWEB) November 04, 2012
Just before the United States celebrates Veterans Day Holiday, Pittsburgh Technical Institute (PTI) will open a new Military Lounge for the exclusive use of U.S. veterans and active military currently enrolled in any of the college's programs of study.
The exclusive lounge will be opened on Friday, November 9 at 11 a.m. with a formal posting of the colors conducted by the U.S. Army.
The lounge is designed to honor military servicemen and servicewomen by providing a comfortable, private place for studying and socializing with fellow soldiers. The Military Lounge is equipped with computers, new furniture, a television, publications, , financial aid and counseling resources a microwave, refrigerator and free coffee.
A visual tribute to each branch of the United States military reflects the college's intention to honor military service within its student ranks.
PTI's administration consulted with retired military on staff and students with military affiliations in the development of the Military Lounge. Jim Lauria, Director of Public Safety at PTI, is a retired Lieutenant Colonel of the United States Air Force.
"The experiences our military students have endured are often incomprehensible for civilians," said Lauria. "When they leave their base and come home from service, they are often really missing the connection to people who understood the language and the shared experiences. It's important to talk to fellow military"
According to PTI President Greg DeFeo, it is both an honor and an obligation to help American soldiers transition to civilian life. "Our Military Lounge is just one of a collection of initiatives PTI has introduced to salute and pay tribute to those who have served us in the defense of democracy and the freedoms we enjoy."
In addition to its new Military Lounge, PTI announces its Gold Star Scholarship program which extends institutional financial aid to the son or daughter of a member of military killed in the line of duty.
"We wish to honor those who have served to protect our precious right to pursue higher education. Nothing can compare to the ultimate sacrifice in the line of duty, However, through our Gold Star scholarship program, we can do our part to ensure that these heroes have not sacrificed in vain," said DeFeo.
In August 2012, the school became designated a Yellow Ribbon School through a Veterans Administration and Department of Defense partnership program designed to provide eligible Veterans with tuition, housing and book cost assistance.
Victory Media includes Pittsburgh Technical Institute on its list of Military Friendly Schools distinguished as the top 15% of schools nationwide that deliver the best experience for military students.
ABOUT PITTSBURGH TECHNICAL INSTITUTE
Offering career-focused education since 1946, Pittsburgh Technical Institute is a two-year college with a 180-acre campus in North Fayette, west of Pittsburgh. PTI offers degree and certificate programs in areas such as Building Technology, Business, Criminal Justice, Culinary Arts, Design, Healthcare, Nursing, and Information Technology. PTI students can take advantage of online course offerings, on-campus residence halls, student activities, intramural programs and community service programs. PTI is accredited by the Middle States Commission on Higher Education. PTI was recognized by its employees as one of the region's Top Places to Work in a 2012 study commissioned by The Pittsburgh Post-Gazette.