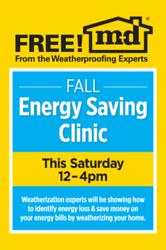 Weatherstripping and caulking will pay for themselves in energy savings within a year.
San Francisco, CA (PRWEB) November 07, 2012
According to the U.S. Department of Energy, sealing air leaks around doors and windows, and improving your home's insulation are the fastest and most cost-effective ways to save energy and money. Most consumers spend more than $2,000 a year on utility bills and heating and cooling their homes account for more than half of that. Discount Builders Supply, San Francisco's largest locally owned and operated one-stop store for hardware, home improvement, lumber and building materials, will have M-D Building Products provide several key tips to help homeowners save money on their heating bill this winter.
M-D Building Products recommends that homeowners begin by checking for leaks by running a hand around door frames and windows on a cold day. Caulk any cracks or drafts around the outside joints of the door or window frames using a long-lasting siliconized acrylic caulk that can be painted, resists mold and mildew and forms a weather-tight seal. For drafts around joints that are inside the door or windows frames, the company recommends weatherstripping.
For weatherstripping doors a new, low cost product by M-D Building Products called Cinch is suggested. Cinch allows users to seal doors in less than 15 minutes using a special peel and stick 3M adhesive. For windows, the company recommends rolled sponge rubber weatherstripping applied to the inner sash, top and bottom of windows.
"Older homes can be money pits. In fact, houses built before 1950 use about 60% more energy per square foot than those built since 2000," explains M-D Building Products representative. "Weatherstripping and caulking should be your first plan of attack. In fact, the government says those two simple air-sealing techniques will pay for themselves within a year."
M-D Building Products also recommends several other easy, low-cost ways to save money, including installing a programmable thermostat, insulating the attic, turning off lights, lowering the water heater's thermostat to 120 degrees and washing full loads of dishes and clothes.
Everything needed to prepare your home for the winter can be found at Discount Builders Supply of San Francisco. Stop by the weekend of the 10th and the 17th to hear more about cost-effective ways to save energy and money.
About the company:
Discount Builders Supply is San Francisco's largest family owned and operated hardware store, in continuous operation for over 50 years. Along with a breathtaking amount of tools, appliances, and everything else you need to complete any remodeling project, Discount Builders Supply's knowledgeable staff is always on hand to provide assistance and lend their expertise. This San Francisco hardware store also provides free bathroom and kitchen design services for any kitchen remodeling and bathroom remodeling project. For more information, please visit their website at http://www.discount-builders-supply-sf.com.