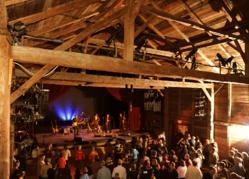 Vienna, Virginia (PRWEB) November 02, 2012
The Grandsons
General Admission
Friday, November 23 at 8 pm
$18
The Grandsons
DC-based rock 'n' rollers The Grandsons return to Wolf Trap for what has become an annual post-Thanksgiving concert experience at The Barns. The upcoming general admission show coincides with the release of two new tracks, the digital-only single "Sock Drawer Millionaire" and a cover of Tom Meltzer's "Baltimore." The high-energy quartet offers their signature blend of rhythm and blues, rockabilly, swing, and country two-step in performances filled with humor, musical riffs, and non-stop dancing. The multiple WAMMIE Award-winning group made their recording debut in 1991 with the album Howdy from The Grandsons. Since then, they have released six additional CDs and toured twice across the United States and the British Virgin Islands. They have also traveled to France, Germany, and Taiwan as ambassadors of American music. The Grandsons have recorded two live CDs at Wolf Trap's intimate indoor venue, Live at the Barns The Legendary Wolf Trap Recordings, Volume One (2002) and Volume Two (2007).
Video: The Grandsons – Hip Replacement
John Eaton
Cotton Club Blues & Concert Hall Rhapsodies: The Music of George Gershwin & Harold Arlen
CD Release
Saturday, November 24 at 7:30 pm
$25
John Eaton
Jazz pianist, vocalist, and musicologist John Eaton brings his masterful interpretations of classics by renowned American composers George Gershwin and Harold Arlen—in the first installment of his three-part series on the Great American Songbook—to The Barns at Wolf Trap. This lecture-concert will also kick-off the release of his latest recording project, entitled John Eaton Presents The American Popular Song: The Classical Connection Volume 6 -Vernon Duke & Kurt Weill (2012), released by Wolf Trap Recordings™.
A graduate of Yale University, Eaton has led an illustrious and continuously active performing career for more than three decades. He has held solo and combo performances in prestigious venues, including the East Room of the White House, the Kool Jazz Festival, and Smithsonian's Performing Arts Jazz series. He has also collaborated with legendary jazz artists such as Zoot Sims, Benny Carter, Clark Terry, and Wild Bill Davison. Eaton's admirable musical knowledge has garnered him recognition as a leading expert on the American popular song and American songwriters, having lectured on these topics for 12 years on behalf of the Smithsonian Institution. He is one of the flagship artists of the Wolf Trap Recordings™ label.
Video: John Eaton Talks With Wolf Trap
Eileen Ivers & Immigrant Soul
Friday, November 30 at 8 pm
$27
Eileen Ivers & Immigrant Soul
Irish fiddle prodigy Eileen Ivers joins her Immigrant Soul bandmates for a world music extravaganza at The Barns at Wolf Trap. Ivers's extraordinary talent as a performer of traditional and contemporary Celtic music has brought her unparalleled success, winning nine All-Ireland fiddle championships, founding the all-female Irish-American super group Cherish the Ladies, and replacing the original fiddler of the Riverdance troupe on tour. In 1999 Ivers established a touring production of what now encompasses Eileen Ivers & Immigrant Soul. To this day, the ensemble headlines prestigious performing arts centers, guest stars with numerous symphonies, performs at major festivals worldwide, and has appeared on national and international television. Ivers also continues to dazzle audiences with the creation of Beyond the Bog Road, a multimedia concert of music, story, dance and film that celebrates the journey of the Irish immigrant.
Video: Eileen Ivers – Fiddle Tunes
###
Tickets can be purchased by calling 1(877)WOLFTRAP; or online at http://www.wolftrap.org
For more information, call The Barns at Wolf Trap at (703) 938-2404 or our general information line at (703) 255-1900.