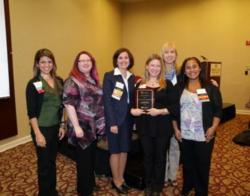 Columbus, OH (PRWEB) November 04, 2012
Half of all employees who say they do not feel valued at work report that they intend to look for a new job in the next year, according to a survey by the American Psychological Association (APA).
Conducted online among 1,714 adults on behalf of the APA by Harris Interactive, the survey found that employees who feel valued are more likely to report better physical and mental health, as well as higher levels of engagement, satisfaction and motivation, compared to those who do not feel valued by their employers.
A variety of factors were linked to feeling undervalued at work, including having fewer opportunities for involvement in decision making (24 percent vs. 84 percent), being less satisfied with the potential for growth and advancement (9 percent vs. 70 percent), having fewer opportunities to use flexible work arrangements (20 percent vs. 59 percent) and being less likely to say they are receiving adequate monetary compensation (18 percent vs. 69 percent) and non-monetary rewards (16 percent vs. 65 percent). Overall, more than one in five (21 percent) working Americans said they do not feel valued by their employers.
Despite ongoing business challenges and employment issues that are clearly ripe for improvement, according to the APA some employers have seized the opportunity to create a healthy culture where employees feel valued and the organization can thrive. In recognition of those employers who understand the link between employee well-being and organizational performance, the Ohio Psychological Association has selected two Ohio workplaces to honor.
On Wednesday, Oct. 24 at the Crowne Plaza in downtown Columbus, the Ohio Psychological Association honored the Cleveland Center for Eating Disorders and the Cleveland Clinic Mellen Center for Multiple Sclerosis as the recipients of its tenth annual Psychologically Healthy Workplace Awards.
After an application was submitted to the OPA, a panel of OPA members conducted a site visit at each organization. The workplace was evaluated on five areas: employee involvement, employee growth and development, health and safety, employee recognition and work-life balance.
Cleveland Center for Eating Disorders
The Cleveland Center for Eating Disorders (CCED) is led by Dr. Lucene Wisniewski and Dr. Mark Warren. When they teamed up to create a clinic specializing in eating disorders, they recruited individuals that were knowledgeable in the field, dedicated to client care and starting a state of the art evidence-based facility. That was more than six years ago, today CCED has 43 employees and every one of them are not only dedicated to the work they do, but dedicated to CCED becoming a leader in research, training and care.
CCED's training didactic exemplifies their commitment to a psychologically healthy workplace. Having well trained employees adds to the success of CCED and having all new employees trained in all areas assures consistency in services for their clients. Allowing their staff to train the new employees encourages outreach and involvement from staff, increases job satisfaction, decreases stress and provides opportunities for employee recognition.
CCED provides employees many ways to grow and develop their careers. The members of the staff have seen needs in the center and have been able to create programs and design their own positions. Volunteers have continued their education and are now licensed therapists at the center. Several interns have been offered positions and now supervise new students.
When employees were asked why CCED is a great place to work, they said, "the organization makes us feel valued in every way, through many demonstrations of personal and professional support." Many staff stated that they couldn't imagine working anyplace else.
Cleveland Clinic Mellen Center for Multiple Sclerosis
The Cleveland Clinic promotes health and wellness and the Mellen Center for Multiple Sclerosis takes this to another level. The team works as an interdisciplinary team, allowing for much collaboration within disciplines. Bi-weekly clinician meetings, monthly staff meetings and monthly luncheons foster a culture of team work and camaraderie. Employee satisfaction scores are within the tops in the institution.
The Mellen Center offers many opportunities to appreciate and recognize their staff, along with activities and events that emphasize their focus on work-life balance, family and employee involvement and health and wellness.
When visiting the Mellen Center, one aspect that stood out to the site reviewers was the culture of deep respect for each other, the friendship and collegiality that exists between all employees, no matter their position or status. Leadership is strong within Mellen Center and employee growth and development is strongly encouraged.
A repeated statement heard during the site visit was, "the Mellen Center is a place you come to stay."
About a Psychologically Healthy Workplace
The benefits of a psychologically healthy workplace can include increased productivity and employee retention rates, recruiting advantages, company image enhancement, a better workplace atmosphere, and workers who are less stressed and more satisfied with their jobs.
For more information about Ohio's Psychologically Healthy Workplace Award, contact Heather Gilbert, director of communications and marketing, at (800) 783-1983 or hgilbert(at)ohpsych(dot)org.