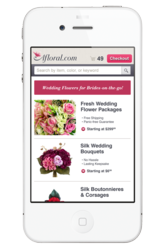 Wedding planning sites such as The Knot and The Perfect Wedding Guide have mobile wedding planning apps that allow brides to organize their information and create wedding checklists from virtually anywhere
(PRWEB) November 13, 2012
Advances in mobile technology have made it easier than ever for people to organize information, make purchases, and search for information from virtually anywhere. Online sales via mobile devices, or m-commerce sales, are on the rise. According to MobiThinking, an online resource for mobile device statistics, m-commerce revenues are expected to grow to $31 billion by 2016. A large piece of that m-commerce pie can be attributed to the bride on the go who is looking to save time and money while keeping all of her information organized and easily accessible no matter where she is.
These busy brides are tackling all of their wedding planning and wedding shopping online via their mobile devices. Wedding planning sites such as The Knot and The Perfect Wedding Guide have mobile wedding planning apps that allow brides to organize their information and create wedding checklists from virtually anywhere. Brides are utilizing these wedding apps to keep themselves organized and simplify the wedding planning process.
Wedding shopping is now easier than ever as many online wedding supply stores have created sites especially for use on mobile devices. Afloral.com, an online supplier of wedding flowers, has revamped their mobile shopping site that allows busy brides the ability to order all of their wedding flowers in 3 simple clicks, no matter where they are. Brides are attracted to the simplicity and convenience of these options. She is juggling many other responsibilities and challenges while planning her dream wedding, and this makes the process that much easier.