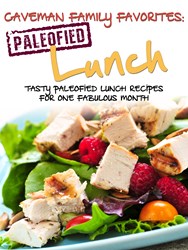 By eating food that works with the body's genetic makeup, Paleolithic dieters say that they have seen amazing results
Boston, Massachussetts (PRWEB) November 03, 2012
Also known as The Caveman Diet, Paleo Diet, and Primal Eating, Paleolithic eating is the hottest craze in the diet world. By excluding all gluten, grains, dairy, legumes, and processed sugar from the diet, followers believe that your body will function properly, which means no diabetes, cancer, or problems associated with obesity. The idea behind Paleolithic eating is that humans' bodies developed to handle a diet far different from what the average modern person consumes on a daily basis. By eating food that works with the body's genetic makeup, Paleolithic dieters say that they have seen amazing results – results that modern medicine has been trying to create for decades.
Despite the impressive average lifespan of Americans today (78.49 years), the United States still trails many countries, including Monaco and Japan, and is expected to drop even lower as more and more people wrestle with health issues tied directly to obesity and the myriad of effects that stem from it. So can Paleolithic eating actually change all of this?
According to Lauren Pope, a follower of the Paleolithic diet for over a decade, it can.
Pope, an expert in ancient civilizations and their lifestyles, says that humans do their bodies a huge favor by cutting out modern staples, like refined sugar, high fructose corn syrup, cereal, bread, potatoes, and pasteurized dairy. "So much of what Americans eat today," explains Pope, "cannot be processed properly by the body. The chemistry of the human body just cannot do it. If you want to see changes in your health, you can't keep eating the same junk and expect that a miracle drug can fix all the damage you are doing. You have to change the type of fuel you are giving your body."
Pope and her son both follow the Paleolithic diet on a regular basis. They participate in the exercise craze, CrossFit, and compete in triathlons at least twice a year. She claims that since starting the diet in 2001, she has never gotten sick and has improved her quality of life. "I'm seeing my best times now in competition. My body is running how it is meant to run. And it is all due to what I eat."
Or maybe, what she doesn't eat.