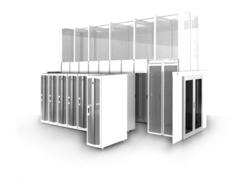 CPI is focused on sealing performance and ease of use -- Sam Rodriguez
Westlake Village, California (PRWEB) November 02, 2012
Known globally for solving complex IT infrastructure problems with customized solutions, Chatsworth Products, Inc. (CPI) introduces its new Frame Supported Hot Aisle Containment (HAC) Solution and Aisle Containment Services as the latest step toward personalizing virtually any airflow containment strategy.
The new Frame Supported HAC Solution by CPI features an exhaust duct that is used over a contained hot aisle as part of a closed hot air return. By supporting the duct with an independent frame that allows a mix of different cabinets to be installed within the row, this system is ideal for colocation facilities and large scale data centers that support cabinet-level equipment installation and changes. This aisle containment solution also integrates with perimeter cooling, provides immediate improved cooling efficiency and is compatible with economization methods.
"The Frame Supported HAC will expand our capabilities to assist more data centers in implementing airflow isolation measures that increase operating efficiencies, increase equipment densities and open up opportunities for economization," said Sam Rodriguez, CPI Product Manager of Cabinet and Thermal Management Systems.
Developed for large scale cabinet deployments that require flexibility and performance, Frame Supported HAC was specifically designed to deploy airflow isolation to a broad range of cabinet sizes and manufacturers.
"The unique design is compatible with cabinets from most manufacturers and will support cabinet heights from 42 to 52 rack mount units," said Rodriguez. "CPI focused on sealing performance and ease of use. CPI's Frame Supported HAC also offers a longer row length up to 20 feet (6 meters) between posts, has built-in leveling adjustments in the frame, and multiple gaskets to minimize leakage."
This expansion of CPI's broad Aisle Containment offering, which also includes Cabinet Supported Solutions for Hot and Cold Aisle Containment, is a continuation of the employee-owned company's mission to help data centers reduce operating costs through quality engineering, flexibility and holistic thermal solutions. While each approach is unique and easily adaptable to varying facility needs, all three of CPI's aisle containment solutions have been engineered to:

Eliminate hot spots
Support 4x higher heat and power densities
Effectively utilize 100% of supplied air
Improve CRAC unit efficiency
Allow increased room temperature and higher set-points on cooling equipment for more "free cooling" hours
To ensure that each Aisle Containment Solution is optimized to its fullest potential, CPI recently added Aisle Containment Services in the form of a Pre-Installation Site Survey and On-Site Installation Supervision Support. Designed to help customers choose the ideal containment solution for their site and ensure that the initial installation has been assembled for optimal performance, these services are an invaluable partner for any aisle containment solution.
Learn more about Aisle Containment Solutions and Services by CPI by visiting http://www.chatsworth.com/aisle-containment.
About Chatsworth Products, Inc.
Chatsworth Products, Inc. (CPI) is a global manufacturer providing voice, data and security products and service solutions that optimize, store and secure technology equipment. CPI Products offer innovation, configurability, quality and value with a breadth of integrated system components, covering virtually all physical layer needs. Unequalled customer service and technical support, as well as a global network of industry-leading distributors, assures customers that CPI is dedicated to delivering products and services designed to meet their needs. Headquartered in the US, CPI operates global offices within the US, Mexico, Canada, China, the Middle East and the United Kingdom. CPI's manufacturing facilities are located in the US, Asia and Europe.
CPI is listed with the General Services Administration (GSA) under Federal Supply Schedule IT 70. Products are also available through GSA Advantage and through Government Wide Acquisition Contracts (GWACs), including GSA Connections and NITAAC-ECS III. (http://www.chatsworth.com/gov)
Media Contact
Craig Ramey
Public Relations Specialist
Email: cramey(at)chatsworth(dot)com
Phone: (+1) 252-635-4264
More Information
Visit: http://www.chatsworth.com
Email: info(at)chatsworth(dot)com
Toll-Free: 800-834-4969
###
All products quoted are subject to availability based on manufacturing capacity and shipping dates should be considered estimates only. While every effort has been made to ensure the accuracy of all information, CPI does not accept liability for any errors or omissions and reserves the right to change information and descriptions of listed services and products.
©2012 Chatsworth Products, Inc. All rights reserved. CPI, CPI Passive Cooling, MegaFrame, Saf-T-Grip, Seismic Frame, SlimFrame, TeraFrame, GlobalFrame, Cube-iT Plus, Evolution, OnTrac, QuadraRack and Velocity are federally registered trademarks of Chatsworth Products, Inc. eConnect and Simply Efficient are trademarks of Chatsworth Products, Inc. All other trademarks belong to their respective companies.