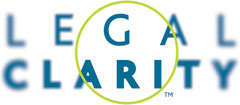 Birmingham, England (PRWEB UK) 4 November 2012
Legal Clarity, an innovative legal services company based in Birmingham, has become an Alternative Business Structure (ABS) law firm – after receiving authorisation from the Solicitors Regulation Authority on 1st November.
Legal Clarity is the 35th firm to be granted ABS status, and one of the first in Birmingham.
James Quinn, Head of Legal Practice says:
"This is an excellent opportunity for Legal Clarity to offer a broader range of legal services to our clients."
"We have a simple mission: leveraging technology to bring down legal fees for accountants and entrepreneurs."
"ABS firms will bring far greater choice to consumers of legal services over the coming months and years. This is a very interesting time for the legal sector."
Legal Clarity's team consists of practising solicitors and IT programmers, who together bring efficiency to traditional legal services. The team specialises in corporate and commercial work and deliver its services via the Legal Clarity website (http://www.legalclarity.co.uk), by telephone conference or in-person depending on the needs of the particular client.
Legal Clarity provides fixed fee legal services to accountants and entrepreneurs.
For further information please contact:
James Quinn
Legal Clarity
Cornwall Buildings, 45-51 Newhall Street, Birmingham B3 3QR
http://www.legalclarity.co.uk
08456 800 727
Notes:
An Alternative Business Structure is an organisation regulated by the Solicitors Regulation Authority (SRA) which provides reserved legal services and has some form of non-lawyer involvement (such a shareholder who is not a lawyer). The SRA began licensing ABS' in January 2012.
The introduction of ABS law firms brings greater competition to the legal services sector.