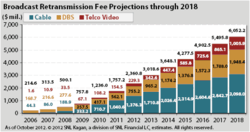 Monterey, CA (PRWEB) November 05, 2012
Announced today, SNL Kagan has updated its industry retransmission fee projections and now expects that TV station owners' retrans fee revenues could reach $5.50 billion by 2017 and eclipse $6 billion by 2018, versus the $2.36 billion projected for 2012 . These projections are higher than those in our November 2011 forecast, when we projected that retrans fees would reach $4.86 billion by 2017. The increased projections are due to the success of a wider range of TV station owners in securing sequentially higher retrans fees from multichannel operators over the last year of negotiated deals.
By 2015, that $4.28 billion approaches 10% of the total $43.0 billion that multichannel operators are projected to pay in affiliate fees to basic cable and regional sports networks. SNL Kagan analysis indicates that by 2018, the projected $6.05 billion of retrans revenues would be approximately 23% of the expected $26.2 billion in TV station ad revenues.
SNL Kagan projects that by 2018 the average fee paid per TV station will be slightly less than $1.00, while each multichannel subscriber will be responsible for aggregate retrans fee revenue of $4.86 per sub per month. For all five major broadcast networks combined in 2015, multichannel providers are expected to pay $3.49 per month, or an average retrans fee of 74 cents per TV station per month, which is significantly below the $6.37 per sub per month that multichannel providers are projected to pay for ESPN, $1.50/sub/month for TNT or the $1.49 sub/month for NFL Network.
About SNL Kagan
SNL Kagan, a division of SNL Financial LC, is a comprehensive resource for financial intelligence in the media and communications sector, including the broadcasting, cable, entertainment, motion picture, telecom, wireless, satellite, publishing and new media industries. The SNL Kagan suite of products integrates breaking news, comprehensive data and expert analysis into an electronic database available online and updated around the clock. For more information, visit http://www.snlkagan.com.
SNL Financial
One SNL Plaza
Charlottesville, VA 22902
+1.434.977.1600
Other office locations:
North America. Europe. Asia
Visit SNL in the Media to learn more about resources available to members of the media.
SNL Financial on Linked In: http://linkedin.com/company/snl-financial
###