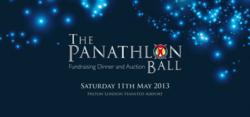 London (PRWEB UK) 2 November 2012
This new project is part of an ongoing relationship between creative marketing company, Graphic Evidence and the Panathlon charity. Graphic Evidence has created a new image and style which will be used to promote and market the Panathlon Challenge's annual charity ball.
The annual Panathlon Charity Ball and Auction will be held on 11th May 2013 at the Hilton London Stanstead. The first charity event in May 2012 was held in partnership with Hilton's 'Hilton in the Community' Charity and together, Panathlon Challenge and Hilton in the Community successfully raised £15,000 for their respective charities.
If you would like to be part of this year's Panathalon Challenge Annual Ball please visit http://www.panathlon.com or visit their Facebook page to find out their latest news.
Graphic Evidence's graphic designers have implemented several successful print, web and creative campaigns; please visit our portfolio to find out more. As a full service marketing agency, Graphic Evidence offer a broad spectrum of marketing and design services including branding, website design, public relations and packaging design. To find out more about us please visit http://www.graphicevidence.co.uk