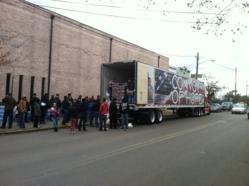 Springfield, MO (PRWEB) November 02, 2012
International humanitarian relief organization Convoy of Hope is conducting disaster response efforts in New York and New Jersey as millions of people continue to be affected by the aftermath of Hurricane Sandy.
"We've already distributed more than 60 tons of relief supplies in hard-hit areas of New York and New Jersey, while more supplies are en route from our World Distribution Center in Springfield, Mo.," says Jeff Nene, national spokesperson for Convoy of Hope. "By the end of the weekend, we'll have distributed an additional 80,000 lbs. of supplies."
Items including food, water, blankets and cleaning supplies have been distributed in several communities in the Long Beach, Staten Island and Pleasant Point areas in New York; as well as Bayonne and Jersey City in New Jersey.
In Long Beach, as volunteers unloaded Convoy of Hope's tractor-trailer load of 40,000 lbs. of supplies, the line of storm survivors waiting for help grew rapidly, giving gravity to the situation throughout Long Island.
"The people of Long Beach really don't have anywhere to go for these basic needs," said Francis Becker, Nassau County Legislator. "The devastation is so significant; it's going to be a long time before this community recovers. Convoy of Hope is helping to fill a void here and its wonderful."
Two additional teams of Convoy of Hope responders have also arrived in the region to assist with distribution efforts. As more supplies arrive in the region, Convoy of Hope's Global Disaster Response teams will coordinate with local officials to determine distribution points.
Those wishing to make a contribution to the Hurricane Sandy relief efforts can make a secure online contribution at http://www.convoyofhope.org, or to place a $10 donation on your cellular bill, text the word CONVOY to 50555. Standard text and data rates apply.
# # #
Jeff Nene
National spokesperson
Convoy of Hope
O-417.823.8998 Ext. 4425
C-417.860.2196
jnene (at) convoyofhope (dot) org
W-convoyofhope.org
Jeanne Hamilton
Public Relations Desk
O-417.851.4424
C-417.860.4066
jhamilton (at) convoyofhope (dot) org
W-convoyofhope.org
Convoy of Hope, founded in 1994, has a long history of responding to natural disasters in the U.S. and abroad and is recognized as a Charity Navigator first responder. As a faith-based organization, Convoy of Hope has a driving passion to feed the world through children's feeding initiatives, community outreaches, disaster response and partner resourcing.