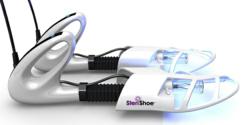 When we find products we believe in we pass on the information to our patients and look for convenient ways to offer the products to them.
Knightsbridge, London (PRWEB UK) 6 November 2012
Beauchamp Foot Care is now offering a new innovative foot care product that helps prevent the growth of toenail fungus and provide a healthier environment for feet by sanitising the inside of shoes.
SteriShoe® uses germicidal ultraviolet light (UVC) to kill the organisms. It's safe and easy to use and completely chemical and drug free. The SteriShoe® shoe sanitiser is an insert that supports the shape of the shoe like a shoe tree with a UVC germicidal lamp inside. It's sold in pairs and available in small, medium or large sizes. The treatment time for a pair of shoes is 45 minutes, after which the germicidal lamp automatically turns off.
Toenail fungus affects approximately five million people in the UK. Boots and enclosed shoes provide ideal conditions for toenail fungus to grow. Consistently airing out the shoes can help, but using a product like SteriShoe® can eliminate the toenail fungus almost completely and help prevent reinfection.
"Beauchamp Foot Care is committed to helping our patients have healthy feet," said Fiona Patterson, a partner and podiatrist at Beauchamp Foot Care. "When we find products we believe in, like SteriShoe®, we pass on the information to our patients and look for convenient ways to offer the products to them."
Each SteriShoe® pack contains a pair of SteriShoe® shoe sanitisers, two shoe bags, two UVC lamps, and a power cord and is priced at £109.95 per pair plus postage and packing. SteriShoe® can be purchased at the clinic or ordered over the phone by calling Beauchamp Foot Care at 020 7225 0794 or emailing info(at)beauchampfootcare(dot)com.
About Beauchamp Foot Care
Beauchamp Foot Care is a clinic of four experienced, dedicated foot specialists with an emphasis on podiatry and chiropody that was founded in 1990. The clinic uses state-of-the-art equipment to treat clients for a variety of conditions related to fungal nail infections and general chiropody. Beauchamp Foot Care is located in central London close to Harrods. The clinic's podiatrists/chiropodists are members of The Institute of Chiropodists and Podiatrists and registered with the Health Professions Council. The podiatrists have over 20 years of qualified experience in all aspects of podiatric care.
###