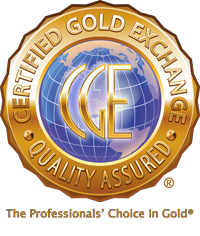 We are projecting that gold will once again increase at least 5% during November 2012.
New York, NY (PRWEB) November 05, 2012
In the past 10 years, the gold price has increased at least 5% every November, making the month one of the most profitable for gold investors. This month is projected to be no different, with several economic factors leading the way to a higher gold price before December.
Arthur McGuire, Vice President of the Certified Gold Exchange says "Profit seekers like to purchase gold in November because the month is historically one of the most profitable for the precious metal. This month we have several factors that could push the gold price up even further. Presidential Elections, negative unemployment reports and fears of reaching the fiscal cliff are causing investors to stock up on gold bars and coins in order to preserve their wealth in this turbulent economy. We are projecting that gold will once again increase at least 5% during November 2012."
McGuire adds "We believe that the 2012 Presidential Elections will play a large role in gold's 5% increase this November. Many investors know that gold performs very well after elections. For example, let's take a look at gold after the 2008 Elections:"
November 2008 = $750 per ounce
November 2009 = $1,220 per ounce
November 2010 = $1,400 per ounce
November 2011 = $1,800 per ounce
The Certified Gold Exchange, Inc. (CGE) is North America's premier precious metal trading platform backed by a solid PriceMatchPlus® Guarantee. They provide both institutional and household investors with real-time quotes and instant liquidity when buying or selling gold, silver and platinum products. For more information, call CGE at 1-800-300-0715 or visit http://www.CertifiedGoldExchange.com today.