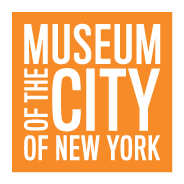 New York, NY (PRWEB) November 05, 2012
For the week of November 4 through November 10 explore the Museum of the City of New York and the compelling exhibitions currently on view. The Museum will be offering FREE admission all week (Sun., Nov. 4-Sat. Nov. 10). All exhibitions will be open to the public, including Activist New York, which examines the ways in which ordinary New Yorkers have advocated and exercised their power to shape the city's, and the nation's, future.
Other exhibition highlights include "The World of D.D. and Leslie Tillett," the first retrospective of the renowned husband-and-wife textile designers; "London Street Photography" and "City Scenes: Highlights of New York Street Photography," which explore the important works of legendary street photographers as well as the evolution of these sister cities; "From Farm to City: Staten Island 1661-2012," chronicling the development of the borough over the past 350 years; and "Timescapes: A Multimedia Portrait of New York," the fascinating 22-minute film about the growth of the City, narrated by New Yorker Stanley Tucci.
The Museum's shop now features the exclusive Tillett collection with stunning Tillett-interpreted home décor and fashions, as well as other exhibition-related gifts, Museum publications, and unique New York City mementos. The Museum now offers free WiFi, accessible in the galleries, cafe, shops, and on the Fifth Avenue terrace.
Museum hours are 10 am to 6 pm; for more information, visit http://www.mcny.org.
The Museum of the City of New York is located at 1220 Fifth Avenue (between 103 and 104 streets), New York, NY.