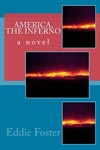 "a gripping page-turner that will leave the reader questioning the very meaning of being human."
Middletown, OH (PRWEB) November 04, 2012
When Amos Canon, a homicide detective, investigates a string of murders caused by a mysterious blue poison, he has no idea to what extremes the investigation will reach. And when a dead woman revives as an enraged cannibal, a series of events begins that will threaten national security like never before in Eddie Foster's "America, The Inferno: a novel" (ISBN 9781463733964, CreateSpace, 2012).
When Joel Canon, a doctor in Indiana, witnesses a woman not only revive from apparent death, but she acts enraged and cannibalistic, he is unprepared for the chaos that will ensue. His brother, Amos, a New York homicide detective, is meanwhile investigating a series of murders involving a strange blue poison. And the third Canon brother, Jonah, a National Guardsman, is at the same time called for emergency deployment to Washington D.C.
As more strange events occur and are broadcast on the news, the president is called upon to address the nation. Soon fear seeps into every corner of America. The cause behind all these frightening occurrences remains unclear until Amos and his partner Samuel uncover an act of internal terrorism from an informant who goes by just the name "Paul." By recounting the story of the Descendants of Dante, Paul reveals that a fanatical religious group has set in motion the poison, murder, and rise of the dead across the United States.
As the crisis unfolds, the White House becomes an impenetrable fortress with Jonah among its guards. At his hospital, Joel tries to maintain stability amid riots of confused and infected patients while wraiths affected by disease try to break inside. And the Canon brothers' parents fully stock their impenetrable cellar to hide out until the crisis is over. Throughout the epidemic and its ensuing chaos, the Canon family members strive to retain their own humanity, struggling with questions of faith, while they watch civilization crumble and wonder whether life as they knew it will ever return.
Far more than just a zombie epidemic story, "America, the Inferno" brings to its forefront questions of religious faith and it confronts the very essence of what it means to be human. Foster has stated that he wrote "America, the Inferno" because he was always disappointed with previous zombie outbreak stories due to their "excessive gore, violence, and absolutely no definitive back story to the outbreak." He felt inspired to spend five years writing this massive seven hundred page novel that would be "without all the clichés" of zombie films and stories. Instead, he says it is "the story of a family in the midst of such an unfortunate event.... I also got to work in my fascination with religious fanaticism and mob mentality." The result is a gripping page-turner that will leave the reader questioning the very meaning of being human.
About the Author
Eddie Foster is a practicing M.A. CCC-SLP (Speech-Language Pathologist). He also has a B.S in early/middle education with a specialization in reading/language arts. He enjoys epic storytelling and living life everyday with his wonderful wife Shannon.
"America, The Inferno: a novel" (ISBN 9781463733964, CreateSpace, 2012) can be purchased through local and online bookstores. For more information, visit https://www.createspace.com/3654922. Publicity contact: http://www.ReaderViews.com. Review copies available upon request.
###