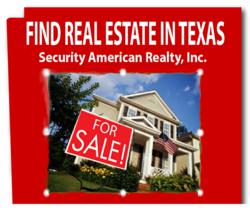 Houston, TX (PRWEB) November 05, 2012
Houston, Texas Real Estate Agents from Security American Realty recently educated Houston veterans over why buying a home before 2013 could help military families secure affordable VA mortgage options. Interest rates in the market of Real Estate are always fluctuating, and the Mortgage Industry is even more fickle when it comes to mortgage fees and closing costs. Due to interest rates that continue to stay low in Nov. 2012 and thanks to the VA home loan benefits allowing much lower closing costs and fees for a VA home loans, Security American Realty and Security America Mortgage have made it their mission to get as many veteran families into homes before the year is over.
Additionally, Texas Veteran Home Buyers were encouraged by Real Estate and VA Mortgage Experts over helpful tips to owning a home that are not necessarily "VA benefits", but benefits nonetheless. These benefits include:
**Home Appreciation in Texas – Buying a home before 2012 (based on the current mortgage rates) can almost ensure your home's appreciation in the future. Mortgage rates are near historic lows and home prices in many parts of the country are down. This is the perfect recipe for home appreciation. Additionally, many foreclosed homes are available for a fraction of the original cost. This can translate to a higher profit if military members decide to sell once the market rebounds.
**Property Tax Deductions – For income tax purposes, real estate property taxes for a vacation home and first homes are fully deductible properties. The IRS (Publication 530) provides a detailed tax report for first-time home buyers that list all deductions military homeowners are eligible for.
**Preferential Tax Treatment – If a veteran owns a home for more than one year and receive more profit than the allowable exclusion after the date of sale on their home, the profit will be considered a "capital asset". Capital assets are given preferential tax treatment and can help a veteran earn money on their home.
**Equity Building – Many factors such as credit qualification, loan flexibility, and annual percentage rate (APR) contribute to the final decision of what type of mortgage best fits the veteran's goals. Most veteran homeowners benefit from adding money to their monthly mortgage payment, which decreases the principal balance of their VA home loan, which is also know as equity building.
Rapid payment processes allows veteran home buyers in Texas to:
*Own their home quickly
*Lock in lower interest rates
*Pay off the principal balance faster
*Shorten the length of VA home loan payments
*Pay less interest on the VA mortgage or VA refinance
Also, home equity in Texas is the largest single source of household wealth for most Americans. What better way for a veteran to take advantage of benefits than to be included in the wealth of owning real estate.
**Sense of Pride – Becoming a homeowner as a veteran offers benefits in different ways than material, such as having a sense of pride, security, and accomplishment. This is a high sought after commodity that is easily bought for veterans.
Furthermore, Texas veterans can count on home ownership to secure the needs of returning home with help from local VA lenders and real estate agents like those from Security American Realty. All dreams of owning a home, whether high or low, can be achieved by experts who are trained to help military members utilize their VA home loan benefits.