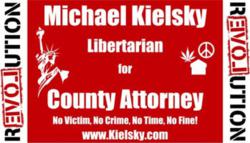 Scottsdale, AZ (PRWEB) November 02, 2012
The campaign reports support from more groups and individuals, following the candidate's debate.
"I have am grateful for the many individuals who have made a point to thank me for providing a real choice in this election," commented Mr. Kielsky, a 1984 graduate of Grand Canyon University and graduated in 2001 with summa cum laude honors. He was also first in his class and a graduate of Thomas Jefferson School of Law.
"The message I hear repeatedly from so many voters, Republicans especially, is that the tired old formula of merely creating more criminal laws and increasing prison sentences no longer works, that indiscriminately imprisoning more and more people for longer and longer terms erodes our system of justice and overburdens the taxpayers."
Scottsdale Attorney Michael Kielsky's campaign for County Attorney reports groups and individuals from a range of political affiliations, including Republicans, Democrats, Libertarians, and Independents, have recently voiced their support. The campaign reports that even judges have made unsolicited statements that their vote in this race is for Michael Kielsky.
Michael Kielsky added, "Many voters have explained their conclusion that my opponent was being duplicitous when he cynically derided my campaign promises to waste no resources on prosecuting victimless crimes as lawless, while he continues to ignore the voter-passed medical marijuana laws, and when he pursues campaign finance allegations against the Attorney General that are remarkably similar to the campaign finance actions of his own campaign."
Both candidates for Maricopa County Attorney debated the issues at the Phoenix School of Law on October 29, 2012. There is no Democratic candidate in this race. While early voting is in progress, election day is Tuesday, Nov. 6, 2012.
Interested citizens may contact Michael Kielsky for Maricopa County Attorney at 480.626.5415 for more information, or by email at Elect12(at)Kielsky(dot)com. Information on Mr. Kielsky and the campaign can be found at http://FreeMaricopa.com or http://Kielsky.com.
# # #
Michael Kielsky for Maricopa County Attorney
5635 N. Scottsdale Rd., #170
Scottsdale, AZ 85250
Tel.: +1.480.626.5415
FAX: +1.480.626.5543
http://www.Kielsky.com