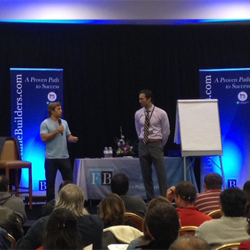 San Diego, CA (PRWEB) November 03, 2012
Urijah Faber, a top Bantamweight contender in the Ultimate Fighting Championship (UFC), made a surprise visit to the FortuneBuilders 3-day real estate summit in Sacramento this past weekend. Jeremy Black, FortuneBuilders' event speaker, is a long-time friend of Urijah Faber and teammates on the UC Davis collegiate wrestling team.
Former teammates and competitive friends, the gauntlet was thrown down when Urijah Faber surprised the crowd and came on stage to compete in the dance contest during the event. Urijah Faber, nicknamed "The California Kid", is a graduate of UC Davis and fights out of Sacramento, received a huge reaction and standing ovation when he came to the stage.
After the dance contest, the California Kid was given the stage to talk about his ascension to the top of the premier MMA organization, the UFC, and what it takes to be the best. Faber spoke about how coaching and relationships are crucial to success in any aspect of your goals. You can't put a price on relationships and friendships.
Faber's presentation at the event made a big impact on the attendees and he also spoke about his new book "The Laws of the Ring", which relates the full story of how he has made a career out of a highly demanding sport and how even outside the ring, his passion for fighting has motivated him.
About Urijah Faber
Urijah Faber is one of the most recognized MMA fighters in the country, was a former WEC featherweight champion and was selected to coach one of the teams on the popular TV show "The Ultimate Fighter" last season. His passion in mixed-martial arts has lead to him open his own fitness center, create a sports clothing line, and lead a fight team.
About FortuneBuilders
FortuneBuilders Inc. is a premier real estate education company headquartered in San Diego, CA. We educate and coach real estate investors through our proven and systemized processes, and champion attitude. Learn more about FortuneBuilders here.