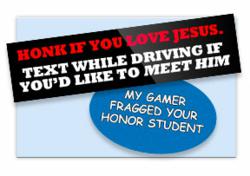 Many business executives choose custom bumper stickers or window decals as part of an overall marketing campaign.
Denver, CO (PRWEB) November 06, 2012
While businesses wait for the economy to improve, digital printing leader Print360 recognizes that successful marketing campaigns can make the difference between business success and business failure. Improving business visibility is a key goal for any business owner or entrepreneur who needs to draw customers, build brand loyalty and increase sales. Many business executives choose custom bumper stickers or window decals as part of an overall marketing campaign.
"Bumper stickers are one of the oldest and most popular marketing tools available," notes Matt Marcus, Senior Vice President at Print360.com. "Our digital printing experts have over 30 years of industry experience and we offer these five tips to help business leaders get the most out of custom stickers. Remember that it's essential to keep the target customer demographic in mind when crafting a sticker-based promotional campaign," Marcus adds.
"Because we recognize the effectiveness of this marketing tool, Print360.com is offering 30% off all bumper sticker orders with the code BS30NOW at checkout. We're also running a bumper sticker slogan contest to celebrate all the creative ideas out there. People can enter easily by visiting the Print360 Facebook page," says Marcus. Print360 advises that all slogans and designs consider the customer base.
(1) Craft your message carefully: It's important to come up with a clear, concise message that individuals will understand while seeing a bumper sticker or window decal on-the-go. Businesses with a well-known slogan should try to incorporate it into bumper stickers. Remember that bumper stickers and window decals are seen by a wide audience, so it's generally a good idea to avoid vulgarity and phrases or pictures that might be offensive.
(2) Use stickers to provide high-tech information to customers: Many businesses have Facebook pages or Twitter accounts used to communicate with customers. Have custom stickers designed with information about where to find a business online. Attach stickers to bags, brochures or other materials handed out at a business location in order to encourage patrons to visit social networking sites.
(3) Give bumper stickers to customers during a special event or promotion: Most business leaders know that bumper stickers can be advantageous in attracting new customers and improving a business's overall exposure. In order for bumper stickers or window decals to be effective, customers need to feel compelled to put them on their vehicles. One of the best ways to encourage customers to sport business bumper stickers is to give them away during a promotion. Hand out custom bumper stickers during a big sale. Customers who have benefited from great prices will be happy to advertise a business.
(4) Offer incentives to customers who put bumper stickers or window decals on their vehicles: Consumers can choose from a myriad of stickers when decorating their cars. It's a good idea to give customers an extra incentive to place a business's bumper sticker or window decal on their personal vehicle. Offer a regular discount to customers who show off their bumper sticker or window decal when they enter a business location. If a discount is too much of a business burden, offer a small gift or token of appreciation when you notice a bumper sticker or window decal on a customer's car.
(5) Apply stickers to promotional items. Many business owners give out promotional items to customers on a yearly basis. Consider personalizing giveaways with a simple sticker. This is an especially useful marketing tactic if your business offers promotional items that can be used on an everyday basis, such as notebooks and USB memory sticks.
Custom stickers can form an integral part of any business's marketing efforts. Visually attractive, well-designed bumper stickers or window decals draw attention and have been shown to boost sales. Strong visual design can be essential in building brand awareness and loyalty.
About Print360:
Print360 specializes in custom printed products, including business cards, bumper stickers, buttons, product labels, envelopes, letterhead, magnets, mailing labels, post-it notes, return address labels, stamps and window decals. Operating in several state-of-the-art printing facilities across North America, Print360 utilizes both off-set and high-speed digital printers to meet a variety of product needs with fast turnaround times. The quality of Print360 products is a result of its team of talented print industry experts, some with more than 30 years of printing experience. Combining this expertise with high quality production capabilities, Print360 maintains its affordable prices and speed. For more information, visit Print360.com and find Print360 on Facebook, Twitter (@Print360), and Google+.