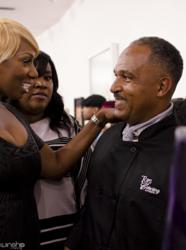 "We are honored to have been selected to provide our services for such a wonderful occasion," says Catering Director Kimberly Baytops.
Lawrenceville, GA (PRWEB) November 04, 2012
Tops Catering & Events announced that the company was contracted to provide catering services for ShoeDazzle's exclusive launch party for NeNe Leakes from the Real Housewives of Atlanta. The "Nethia" was unveiled at the party this past August for ShoeDazzle's Celebrity Shoe Design Line.
New Jersey native, Owner/Chef William "Bill" Baytops used the experience he gained in VIP entertainment while working as a Private Chef to Generals in the U.S. Army and at Motion Pictures in Washington, DC to start catering in New Jersey after retiring from the military in 2002. He founded Tops Catering & Events with his wife Kimberly after relocating to Atlanta.
The party guests dined on an array of hors d' oeuvres prepared by Chef William and hand-passed on silver trays with an artful presentation.
Tops Catering & Events is devoted to providing top notch catering services for weddings, corporate events and social occasions. Our goal is perfection, one event at a time. Whether you are hosting a party at home, the office or at an off-premise location, you will receive impeccable attention to detail, delicious food, artful presentation and exceptional customer service.
The Real Housewives of Atlanta Season 5 premiers tonight at 9:00 pm ET on Bravo. For more information, call 770-559-5037 or visit online at http://www.topscatering.com.