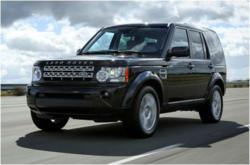 (PRWEB UK) 2 November 2012
The Land Rover Discovery is the slightly more practical, slightly less luxurious brother to the Range Rover.
It's still worth a look however, because it delivers impeccable off-road ability, impressive towing credentials and room for seven people – and that is something even the Range Rover can't claim.
The 251bhp SDV6 is currently the only engine choice, but that's not a problem because it delivers the right mix of performance and smoothness. The HSE is the top of the range model.
Prices for the Land Rover Discovery 4 range from £38,825 on the road to £52,450 for the HSE model reviewed here.
What's hot?
•For starters it's worth reasserting just how practical the Discovery is. There's room for seven people (and in reasonable comfort, even in the back row) but with just five seats in place there's a huge 1,124-litre load area too. It's still a reasonable 280 litres with the third row of seats in place.
•Then there's the comfort and refinement. The supple suspension and thick tyres soak up rough roads and large potholes, while one can travel at the national limit in near-silence.
•The Discovery is ideal for off-roading with plenty of electronic systems to keep passengers safe. A computer chooses the best set-up for the suspension, the four-wheel-drive system and the throttle response to ensure one doesn't get stuck.
•It's possible to tow a huge 3,500kg loads with the Discovery and it can be ordered with a Trailer Stability Assist system which helps eliminate sway.
•As of October 2012 there is only one engine choice, the 251bhp SDV6, and it's fantastically smooth and powerful.
•The Discovery's cabin features plenty of leather and chunky switchgear, giving both a sense of luxury and of build quality.
What's not?
•This big car comes with some very big running costs. There's no stop/start to soften the blow, so fuel economy stands at 32.1mpg and CO2 emissions are 230g/km.
•That puts it in the most expensive company car tax band possible, so the car owner will have to pay 35% of the P11D value.
•Drivers will want to be careful going round corners too. The Discovery's high-sided shape and soft suspension means it rolls about quite a lot. The steering is well weighted but there's not enough feedback to give one confidence.
•Drivers will need space to park the Discovery as it is a very large car. It's difficult to negotiate narrow streets too but one can get used to it.
•This generation of Discovery is now over three years old and Land Rover has already mentioned a new, improved Discovery is due for 2014.
Business Car Manager road test verdict
For SME business owners or directors, who needs a rugged and spacious off-roader with a hint of luxury, the Discovery makes the perfect choice, whether the owner runs it privately and then re-imburses themselves with business mileage or as a company car.
The Discovery's SDV6 diesel engine is the ideal match and owners will find themselves looking forward to long motorway journeys in the comfortable and quiet cabin.
And at weekends, whether they tow a horsebox or a sailing dinghy, there's 3500kgs towing capacity.
The Discovery is certainly not cheap to run from the point of view of a company car finance, and it is due to be replaced in the next couple of years but that doesn't stop the Discovery being a fantastic all-round car.
Land Rover Discovery 4 3.0 SDV6 HSE 255hp Auto – the low down
P11D Value £51,580
Monthly business rental (ex VAT) From £543 (3yrs/30,000 miles)
Company car tax bands 2012/13 to 2014/15 35%, 35% 35%
BIK tax £18,053, £18,053, £18,053
Engine 3.0-litre V6 turbodiesel
CO2 230g/km
Power/torque 251bhp/ 317Nm
0-62mph 8.8 seconds
Economy 32.1mpg
For more information, visit Business Car Manager at http://www.businesscarmanager.co.uk/